For souvenir shopping, you can visit Hathi Pol, a vibrant market that attracts shoppers from all over the world. Here, you can purchase jewelry made from brass and marble, handcrafted silver and brass jewellery, and bandhani printed apparels. You can also purchase traditional Rajasthani footwear from these stalls. The prices are reasonably reasonable here. Hathi Pol is a great place to buy souvenirs and gifts, as well as local Rajasthani merchandise.
Bapu Bazaar
If you're looking for something different, head to Bapu Bazaar in Udaipur. You'll find a huge array of merchandise on sale here, from camel leather journals to school uniforms. The place is a hive of activity, so it's best to come early in the morning. Bapu Bazaar is also the perfect place to try out some Rajasthani street food.
There are many ways to enjoy Bapu Bazaar while you're in the city. The street food is legendary, and you can sample local and international cuisine from there. In the evening, you can also relax in a cozy pub with a good book. Afterwards, you can grab a bite to eat at a nearby restaurant. You'll also want to linger over a delicious meal in a cafe.
When it comes to shopping in Udaipur, the cloth market is your best bet. Here, you'll find embroidered Rajasthani clothes and hand-printed fabrics. You can also purchase brass and wooden statues of Hindu deities, and you can buy gold and silver trinkets at rock-bottom prices. And don't forget to check out the dazzling collection of Kundan jewellery and jewelry.
Bada Bazaar
Whether you are looking for souvenirs, Rajasthani paintings, or leather journals, the city's famed market is the place to go. In a nutshell, Bada Bazaar is the city's central shopping district. It has everything, from leather journals and wallets to ethnic jewelry and handicrafts. The street-food stands are also worth a look.
The market is a great place to find souvenirs and traditional stuff. The colourful and crowded stalls offer everything from silver and stone jewellery to beautiful embroidered garments. You can also find beautiful statues and jewelry here. Shopping in Udaipur's market will be a highlight of your trip to the city of lakes and palaces. And while you're there, make sure to visit the many stalls in the area – you will definitely be amazed by the number of items you can find!
For souvenirs and unique gifts, make sure to visit Bada Bazaar in Udaipur. It is one of the largest markets in the city, filled with authentic Rajasthani products. From hand-woven rugs to beautifully embroidered sarees, you're sure to find something that you'll cherish for a long time. You can also find souvenirs in the form of handcrafted items, leather goods, and other traditional clothing.
Hathipole Bazaar
While shopping in Udaipur, you must visit the Hathipole market. It is the heart of shopping for locals and tourists alike, offering a range of traditional Rajasthani handicrafts, antiques, and marble souvenirs. This market is also known for its selection of ethnic bags and embroidered clothing. Hathipole is a great place to pick up souvenirs or even buy handmade items.
The Hathipole Bazaar is the most famous market in Udaipur. You can find a wide variety of handmade items and traditional Rajasthani pichhwai in this market. You can buy authentic souvenirs, vintage articles, and traditional Rajasthani clothing and jewelry here. You can also find unique vintage items, handcrafted pieces, and traditional jewelry.
You can also purchase handcrafted art pieces from artists in this market. You can purchase miniature paintings and have your hands henna-applied to your body. The merchandise sold here is made of natural materials and includes beautiful paintings, handicrafts, and jewelry. In addition to these items, you can also find local artists selling artworks. You can also purchase beautiful camel-skin shoes called Nagra.
Chetak Circle
One of the best shopping districts in Udaipur is Chetak Circle. This area is known for its colorful bazaar, which is packed with handicrafts and traditional Rajasthani wear. There are also many places to buy spices, herbs, and ornaments made of precious stones. The Clock tower is also a popular shopping district in Udaipur, where you can buy traditional Rajasthani jewelry and buy jutis, the traditional Rajasthani shoes.
The city's shopping district is a bustling area that reflects the rich culture of Rajasthan. You'll find handcrafted goods here, as well as brass wares, lanterns, and colourful Rajasthani puppets. You can also find fresh spices, jewelry, and souvenirs at the nearby Mandi Bazaar. For local items, you can also visit the Chetak Circle.
One of the most popular markets in Udaipur is Chetak Circle. Colorful shops in the area attract tourists from all over the world. You can find all kinds of souvenirs and gifts here, including colorful puppets made of papier-mâché and cotton. These cute little figurines are great for decoration and will delight children. Buying souvenirs is a great way to support the local artisans.
Maldas Street
If you are looking for souvenirs and other trinkets, you can visit the City Palace Road. Although you can find the same things in Udaipur, prices are a little higher here. This street is also frequented by foreign tourists. You can also pick up some beautiful camel leather bags from the stalls here. The best part about shopping in Maldas Street is that you can find all kinds of products.
The shops on Maldas Street are a good place to buy ethnic wear, costume jewelry, and unstitched fabric. You can also buy fabric-based souvenirs and home decor items. The street is easy to access by foot, and buses and auto rickshaws are readily available. Buying souvenirs here is a great way to support local artisans and make a difference in the community.
After a week of tense security, Udaipur is slowly returning to normal. The curfew has been relaxed for a day, and internet services have been restored in most parts of the city. However, the situation in and around Maldas Street remains tense. The curfew has hampered business, and some shops have remained closed for almost a week.
Shilpgram
When in Udaipur, don't miss the annual Shilpgram Crafts Mela. Held annually during the winter months, this event showcases the works of artists and craftsmen from across the state. There are numerous craft stalls, including those that sell handwoven cloth. The festival also features performances by local artists and a chance to enjoy camel rides and local food.
If you're visiting the city for the first time, this is a must-do. The market is bustling with locals and tourists alike. The locals flock here to buy delicious food and enjoy cultural performances. For a truly unique experience, make sure to visit the Shilpgram every day. This fair is held every ten days, so you'll have plenty of time to shop around.
If you're looking for a unique souvenir from the region, you'll find it at Shilpgram, a village west of Udaipur. The area is home to numerous traditional mud cottages, stoneware and wooden houses. You'll also be able to see traditional Rajasthani folk dances in the open-air Amphitheatre. Taking the time to visit Shilpgram is a wonderful way to experience the village life and see what it's all about.
City Palace Street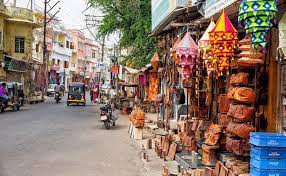 If you're planning to buy souvenirs or other items for your loved ones, you will find plenty of options on City Palace Street. You can buy anything from hand-painted Rajasthani miniature paintings to leather journals. This age-old market is located in the walled city area and offers a variety of products. You can find clothing, antiques, and jewelry for both men and women, as well as jewelry and statues.
The handicrafts on this street are made of cotton, silk, and other materials. You can also find many beautiful Rajasthani garments here. You can also shop for beautiful jewelry and silver. These local artisans produce these goods, so you can trust the quality. You can buy the items at affordable prices. If you want to buy souvenirs for yourself or your loved ones, this is the best place to go.
If you're looking for souvenirs, the City Palace Museum has a museum shop that sells beautiful miniature paintings. You can also buy Pichhwai and Bundi wall hanging paintings, which are paintings on cotton and silk. These items will definitely add some x-factor to your shopping in Udaipur. If you're looking for stylish shoes, you can head to Mochiwada Bazaar. You'll find leather shoes here at reasonable prices.
Jagdish Temple Street
The city's central location makes it easy to find the best shops in Udaipur. The Jagdish Temple Street is a popular area, and the shops here are filled with all kinds of treasures. Besides camel leather items, you can also find brightly colored lamps, painted wooden articles, handcrafted postcards, and mud and metal articles. If you want to buy something unique, however, you should be careful about what you buy.
One of the best places to buy souvenirs in Udaipur is the Bapu Bazaar. The market here has a wide selection of goods and is always bustling. You can find anything from shoes to jackets, embroidered fabrics, and even camel skin products. You can even buy brass items and incense here. And don't forget to try some of the city's street food!
Another area where you can buy souvenirs in Udaipur is the Chetak Circle. The area around the clock tower has a plethora of shops selling souvenirs. You'll find everything from handcrafted jewelry to earthenware. If you're looking for souvenirs for a loved one, this is the place to look. Besides, you can also find souvenirs in the market near the City Palace. Be sure to check out the market hours, as it's closed on Sundays.