The North eastern state of Sikkim is blessed by nature and breath taking views of the mighty Himalayas. India's second tallest peak Kanchenjunga is situated in Sikkim ,the views of snow capped Kanchenjunga peak is sure enthralling. The state of Sikkim is environment friendly even the people love nature and their houses are surrounded with greenery and flowering plants, there is a carpet ban on plastic use in Sikkim so remember when you places to visit in Sikkim carry your non disposable water bottles. Sikkim is nearest hill state to the people of West Bengal who come to this hill state in large numbers.
Gangtok- One of the top Places to Visit in Sikkim
Located in the state of Sikkim, Gangtok is the state's capital and is the second most populous city. It is a UNESCO World Heritage Site and is home to the famous Himalayan monastery of Rumtek. The town has a very unique culture and many activities that you can engage in during your stay. In addition to sightseeing, you can enjoy local and international cuisine. During your stay in Gangtok, you should try out its delicious and spicy thukpa.
There are several reasons to visit Gangtok. The capital is a popular tourist destination in the region and has several tourist attractions that are worth exploring. You may want to spend a day exploring the capital's attractions or plan an overnight stay in one of the luxury hotels. However, you'll have to be aware that the city can be expensive, especially if you're travelling alone. Thankfully, there are many hostels and budget hotels in the area, and you can even share a vehicle with other travellers.
The main sights to be seen in Gangtok include the Namgyal Ressearch Institute of Tibetology, where you can see rare Sanskrit and Lepcha manuscripts. Other places to visit in Gangtok include the Flower Exhibition Centre, the Enchey Monastery, and the Yumthang Flower Valley. If you are looking for a fun night out, you can check out several pubs and bars in the town.
Tsomgo Lake – Another top Places to Visit in Sikkim
One of the most spectacular sights in Sikkim is the majestic Tsomgo Lake. This icy blue lake is famous for its healing properties and is the source of a popular yak farm. Nearby Nathu La, one of three mountain trading posts between India and Tibet, is a picturesque view of snow-covered mountains. Visitors are encouraged to drink the lake water to alleviate fertility issues. The breathtaking view of the icy blue Tsomgo Lake will make your trip to Nathu La Pass worth remembering. This lake is home to many yaks, which are renowned for their therapeutic properties
If you love nature, the Tsomgo Lake should be your next destination. This stunning lake is surrounded by a pristine Alpine forest and is one of the most popular places to visit in Sikkim. The lake changes colors according to the season. During spring, the lake is sapphire blue while in winter, the water is a dark inky green. Visitors can also trek the Nathu La Pass to see the spectacular mountain panorama of Tsomgo Lake.
Nathu La Pass
A trip to the famous Nathu La Pass is a must for visitors to Sikkim. This pass is situated on the Indo-China border and is 540 km long. The view from the pass is absolutely breathtaking, with ice-capped mountains, verdant valleys, and picturesque waterfalls.
. Near the border, the Nathu La Pass was once one of three mountain trading posts between India and China. The pass offers an unforgettable experience with the changing greenery and stunning views.
For an unforgettable experience, try the one-day trek to the pass. While there, you'll have the chance to stop at Changu Lake, a glacial lake. Although it is frozen over during the winter, it is perfectly reflective during the summer months. You'll also be able to witness the majestic Mandakini Falls. If you're looking for something a bit more exciting, try hiking up the Nathu La Pass.
Baba Harbhajan Singh Temple
A trip to Sikkim would not be complete without visiting Baba Harbhajan Singh Temple. This temple honors the Indian army soldier who rose to fame as a saint and folk hero. Baba Harbhajan Singh sacrificed his life in the name of the nation even after death the soul of Baba Harbhajan Singh guards and performs all his duties he has been reported multiple times patrolling the Indo China border the soldiers on guard duty who relax are said to be warned by the spirit. Baba is said to be on active duty and yearly he is given leave to visit his home village in Punjab. The story of Baba Harbhajan Singh helped this place become a popular destination for tourists.
The temple has an idol of the Soldier with office of the soldier and all his accoutrements in place travelers pay homage to the holy spirit while they visit this area.
Guru Dongmar Lake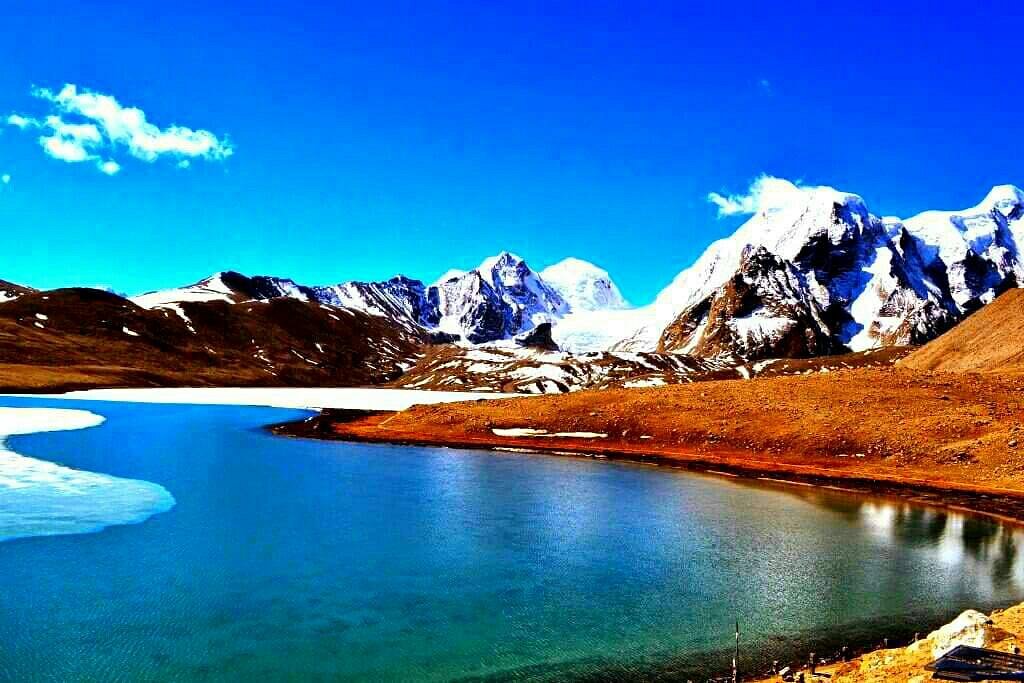 If you have never visited this place before, it is worth your time and money. Situated in Nepal, the Gurudongmar Lake is a popular spot for tourists. It is home to many red prayer flags and white peaks standing proud against the spotless blue sky. This lake is believed to be the source of the River Teesta. Here, you can experience true peace and tranquility.
Guru Nanak the first Guru of Sikh religion is revered as Nanak lama by the local Buddhist, Nanak Lama visited this place which was deficient in water, Nanak Lama is said to hit the ground with a stick and produce fresh water.
Winters are the best time to visit the Gurudongmar Lake. The entire lake is frozen, except for a small portion. During this time, you can enjoy the tranquility of this lake while surrounded by snow-capped mountains. If you are looking for something a bit different, try visiting during spring or autumn. If the weather is good, you'll have no trouble catching a glimpse of this holy lake.
Mangan – One of the top Places to Visit in Sikkim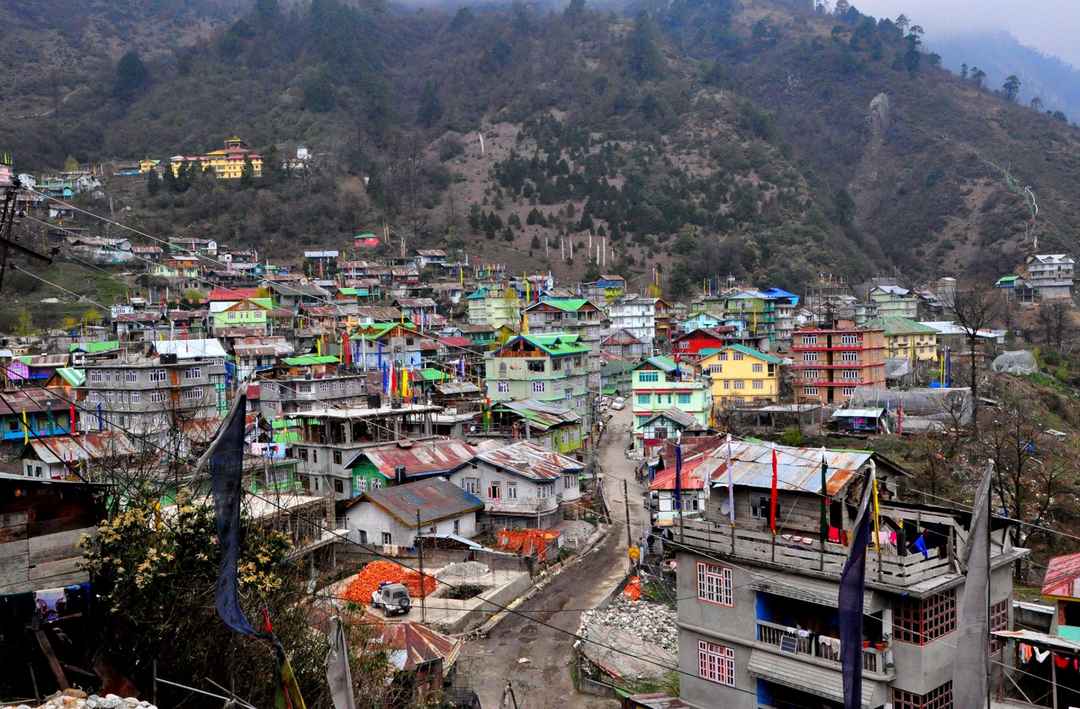 In December, you should visit Mangan to witness the largest music festival in Sikkim. Not only is the music festival an incredible sight, but you can also enjoy handicraft exhibitions and cultural performances during this music festival. The climate of this town is absolutely captivating, and you can't miss it! You can also attend the Mangan food festival and enjoy some delicious local delicacies.
Travelers can visit the tiny town of Mangan from Gangtok, and the quaint little town has become quite popular with tourists. The town boasts an excellent view of the Kanchenjunga mountain and a hot spring with high temperatures. It is also close to Labrang, a religious community, and is home to the Shingba Rhododendron sanctuary, which features forty species of plants. The town is a popular touring spot for travelers, as it serves as a stepping stone to various goals in the locale.
While in Sikkim, you may also want to stop at Pentok, a small village located 2 km away from Mangan. The town is known for its peaceful atmosphere and offers scenic views of Mount Siniolchu. You can also check out Pakshep and Singhik, two other nearby towns. The Mangan market is the perfect place to pick up souvenirs and curios. In addition, the town is well connected to the popular Lachen tourist area, and visitors can visit both townships from here.
Mangan is the district head quarter , its here where passes to visit GuruDongmar, Nathula and other places of northern Sikkim are made by the district authorities remember no one can visit these places without a valid route permit.
Goechala
If you want to get a breathtaking view of the mountains and the Himalayas, then you must visit Goechala. This mountain pass in Sikkim is a favorite among trekkers and adventure lovers. This place offers great opportunities for hiking and skiing. And if you come here during the winters, you can also experience the snowy peaks of Kanchenjunga.
The trek to Goechala has three basic rules of mountaineering: descending, climbing, and abseiling. The trek lasts 11 days and covers approximately 90 kilometers of difficult terrain. On your way to Goechala, you can see Mount Kanchenjunga, the Three Sisters, and Mount Everest. Those who dare can also take on the challenging icefields of nearby Lachung and Tiger Hills.
If you are visiting Goechala for the first time, you must stop in Yuksom. This historic town is home to the first king of Sikkim, and is an excellent place to start your trek. You can find cheap homestays and hotels in Yuksom. You can also check out local art and architecture. If you're a nature lover, you can visit the Shingba Rhododendron Sanctuary, which is a great place to explore.
Zuluk – One of the top Places to Visit in Sikkim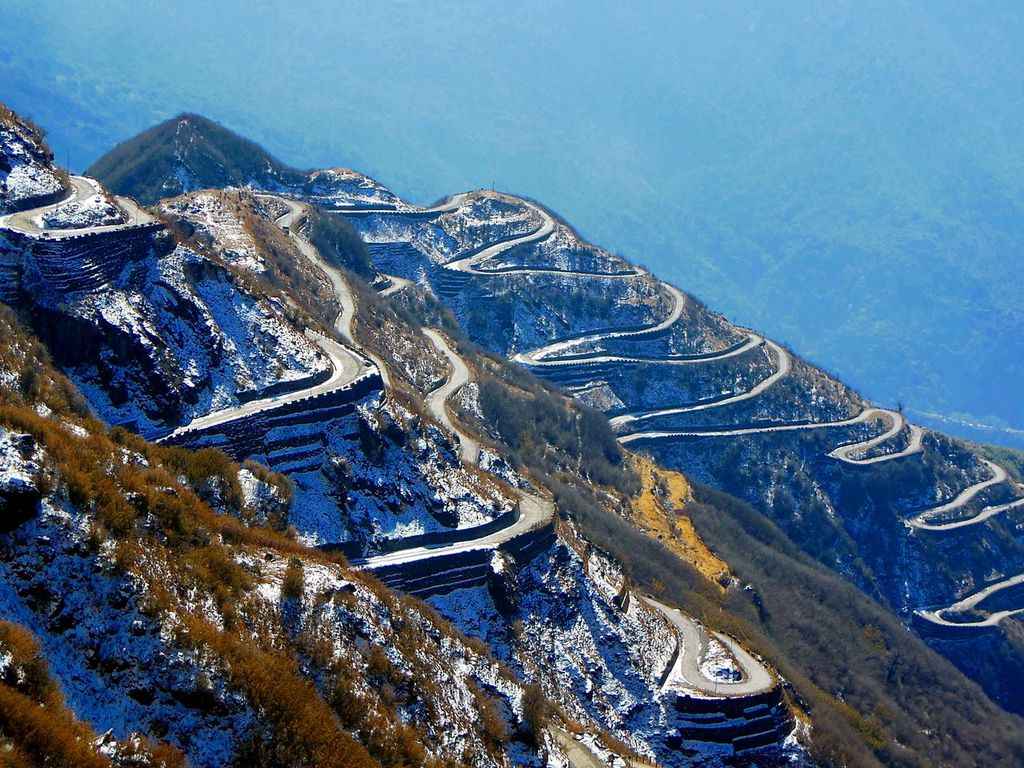 If you're a nature or photography lover, Zuluk in east Sikkim is definitely worth a trip. It is situated on the famed Silk Route, which was once a vital trade route towards Tibet. Before the Chinese invaded Sikkim, the route was often used by Tibetan traders. Today, the Sikkim tourism department is doing all it can to promote Zuluk as a top destination for tourists.
The drive to Zuluk is about four hours' drive from Gangtok. You can get to Zuluk by taking the Tsomgo Lake or Baba Mandir route. However, it is important to note that the Changu Lake route is quite dangerous and requires a permit. Hence, it is not a good idea to drive through this route. The other options are the Tsomgo Lake and Baba Harabhajan Singh Mandir routes.
For those who prefer a more relaxed pace, Zuluk Basti is the ideal destination. Situated ahead of Upper Zuluk, Lower Zuluk is located in a lower altitude zone. While Zuluk Basti is dotted with homestays and makeshift hotels, it lacks the amenities of a modern city. Local women sell toothpaste in the streets. The town looks like it was thrown together haphazardly, with a large number of houses in ruins. While the weather is cold, the landscape is stunningly beautiful.
Pelling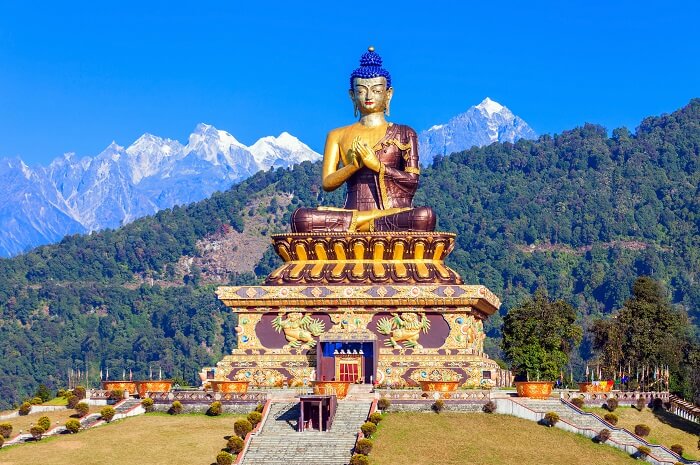 Pelling is one of the best places to visit in Sikkim, and it is the second most popular tourist destination after Gangtok. This peaceful town lies just 131 km from Gangtok and 73 km from Darjeeling. Pelling has a great combination of winter and spring weather, lip-smacking food, and a beautiful landscape. Its monasteries are also a must-see attraction.
One of the best places to visit in Pelling is the Rabdentse Ruins, which is a national landmark. These ruins were constructed in 1670 by the Sikkimese king, Chadok Namgyal. During the Gurkha invasion of Sikkim, all of Chadok's establishments were destroyed. You can visit the ruins from 6 am to 6 pm daily.
Another off-beat spot in Sikkim is Ravangla, a town situated in southern Sikkim between Pelling and Gangtok. It is known as a bird watcher's paradise and is home to many rare and endangered species. It's also an excellent place to visit in the winter, when snow falls, which makes for a magical experience. You can also explore Thambi View Point and Nag Temple, which are both located nearby.
Kanchanjunga Base Camp
Trekkers should experience the breathtaking beauty of the Kanchenjunga Base Camp while on their trek from Yuksom to Bakhim. The Kanchenjunga BC Trek takes hikers through forests, terraced fields, and upper temperate climatic zones. The trek ends in Bakkhim and offers views of Mt. Khangchendzonga and the surrounding rhododendron forests.
Travel is one of the most effective ways to experience another culture. Traveling is an invaluable way to discover a new region and experience its distinct culture. While in Sikkim, try to take a trip to the Kanchenjunga Base Camp, the third highest peak in the world. You can begin your trek in Dzongri, which is the last road around the mountain. The view of the snowcapped mountain will be breathtaking. Another great off-the-beaten path attraction in Sikkim is Pelling, which is located in a valley surrounded by beautiful forests. Pelling is also home to the Rabdentse Ruins, which are best viewed during the winter and late spring. This region is also home to a yak herder camp. A trip to Pelling should be planned well in advance to ensure optimal weather conditions.