If you're looking for the best hotels in Goa, you've come to the right place. From the world-class five-star restaurants to the beach shacks and villas, Goa has everything you need for a perfect beach vacation. In addition to luxurious accommodations, these hotels have world-class poolside decks and hospitable staff. You can even book water sports at many of these properties.
1. Caravela Beach Resort
Located in Varca, the Caravela Beach Resort is a modern beachfront luxury hotel that features spacious rooms and a stunning atrium lobby complete with a mural by artist Mario Miranda. Indulge in a massage, soak in the hot tub, or unwind in the beauty centre. For your convenience, there are car hire services available and a concierge service for any traveler's needs. If you need to make travel arrangements, the hotel has convenient facilities for business meetings.
The hotel offers an extensive spa with a full-service salon, a nine-hole Par-3 golf course, and an ayurvedic spa. The hotel also offers direct beach access and a beautiful lawn for jogging. Located on a private beach, this hotel is ideal for those looking to get away from it all and unwind in a romantic atmosphere.
2. Planet Hollywood Beach Resort
This five-star Goa resort is located on a private stretch of pristine white sand and offers deluxe amenities and five-star comfort. In addition, guests are allowed to bring their pets along, which is a real treat. You can enjoy a massage in the spa and play games in the game room, and there is a complimentary high-speed internet connection for your convenience.
The stylish, modern rooms at Planet Hollywood Beach Club Goa feature unique design elements, including movie memorabilia and sleek sound bars. Rooms are decorated with the iconic Hollywood logo and are appointed with a view of the shimmering sea. The resort is a great choice for business travellers who need a sophisticated setting for meetings. The resort's unobtrusive service and professional expertise make the perfect location for business meetings.
Located just six kilometers from Colva Beach, Planet Hollywood offers a private beach. Modern amenities and services make it the perfect place to relax on a sun-kissed beach. Guests can easily walk to popular attractions in Goa and enjoy delicious international cuisine and massages at the on-site spa. The Planet Hollywood Beach Resort is also accessible via the airport by taxi, car hire, and shuttle.
3. Azaya Beach Resort Goa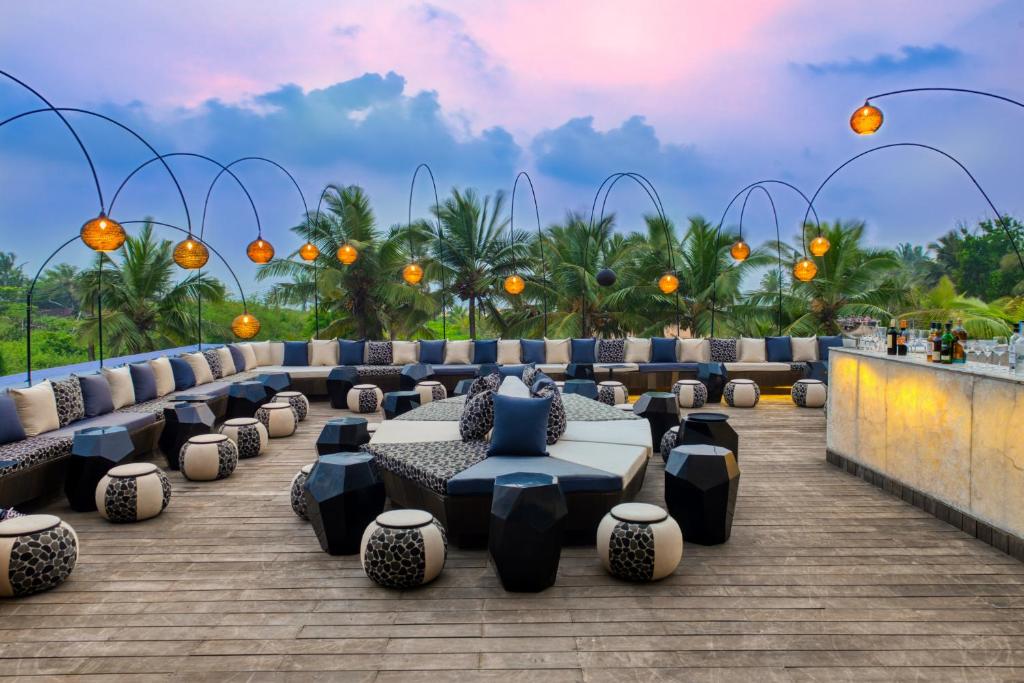 Located on the south coast of Goa, Azaya Beach Resort is accessible by both public and private transportation. Goa International Airport is 26 km away. Featuring twin beds and air-conditioning, the Essence Twin Rooms at this hotel are ideal for a relaxing getaway. Guests can take advantage of the free wifi and room service available in the rooms, as well as the complimentary breakfast that is served daily. The resort also provides car rental services.
The hotel's proximity to the beach means that guests can stroll to Varca Beach in five minutes. A restaurant called Sala Da Pranzo is also located within 5 minutes' walk of the Azaya. Guests will be pleased to discover the local cuisine at a number of in-house restaurants. A round-trip airport shuttle is also available, and the hotel offers a free shuttle to and from the airport.
4. O Pescador Resort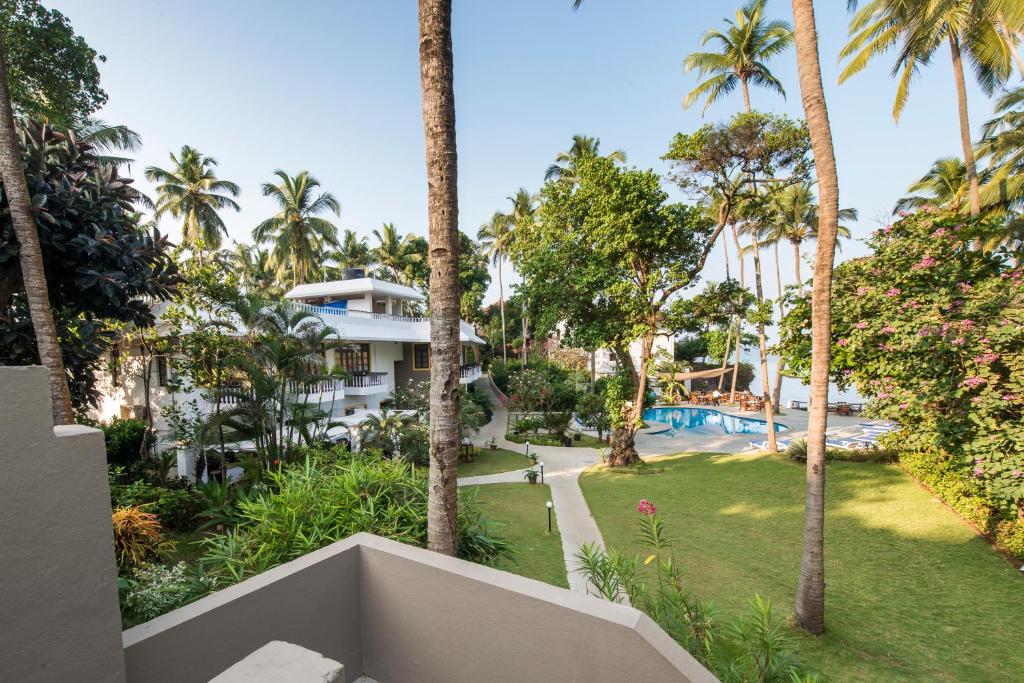 O Pescador Resort is situated on the beautiful sandy beaches of Goa. The spacious rooms are equipped with all modern amenities. The décor is elegant and the king-sized beds provide a comfortable night's sleep. Some rooms also have a DVD player and an outdoor pool. Free Wi-Fi is available throughout the hotel and on the beach. The resort offers a wide variety of activities, including tennis, billiards, and a library.
O Pescador is located in Dona Paula, the lovers' paradise of Goa. This beachfront hotel features an outdoor pool that's open all year, a sun terrace, and an elegant lawn. It is also a great place to host small, intimate events. The property's restaurant serves Portuguese cuisine and offers panoramic views of the Arabian Sea. Guests can request for airport shuttle service, and the 24-hour front desk will assist them with any travel-related questions or concerns.
O Pescador Resort is a family-run establishment. It has been serving various kinds of travelers since 1979. Guests enjoy a memorable experience in this family-run property. The hotel is located in Dona Paula, Goa, just six kilometers from the capital city, Panaji Goa. It can be reached easily by bus or taxi. The property offers complimentary Wi-Fi and complimentary bottled water.
5. Resort Terra Paraiso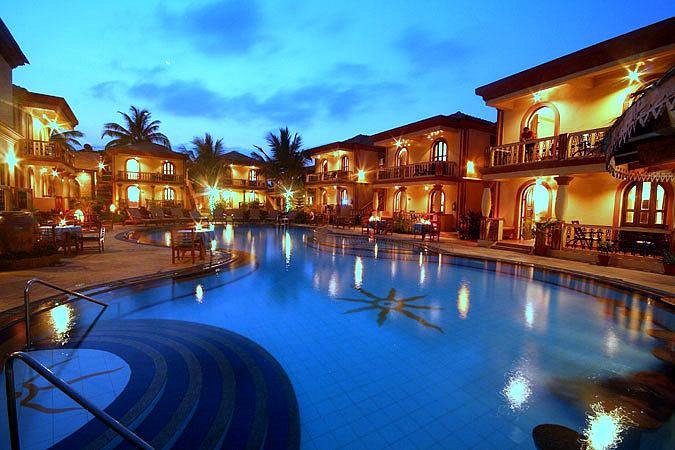 Located just a few minutes away from the Calangute Beach, the upscale Terra Paraiso Goa is a villa-inspired resort. The spacious villas feature spas and luxurious amenities. Guests enjoy complimentary breakfast, Wi-Fi access, and housekeeping and concierge services. The resort is also close to popular sightseeing areas. Listed below are the amenities available at this Goa resort.
Located near the beach of Calangute, the Resort Terra Paraiso boasts an outdoor swimming pool and a spa. Located approximately 40 km from Goa International Airport, this resort is convenient for travelers. Guests are offered en-suite bathrooms, safety deposit boxes, minibars, and tea and coffee making facilities. In-room dining options include Blue Bistro, a multi-cuisine restaurant where guests can sample international and Goan dishes.
The beachfront location offers easy access to several local attractions and shopping malls. Guests can choose to dine at one of several shacks and restaurants. The 400-year-old St Alex Church is an excellent tourist attraction, boasting cupola falsa Indian-style architecture. Water sports are also available at Candolim Beach and Baga Beach. Baga Beach, also known as 'The Hometown of Nightlife', is a lively place with late night parties, mouthwatering food, and adventure sports.
6. Heritage Village Resort And Spa
If you are searching for a resort in Goa, you may want to consider the Heritage Village. This five-star resort is located in the South Goa region, and you will be near the beach and various interesting attractions. It offers services such as massages and spa treatments, free WiFi, and on-site restaurants and shops. Guests can also enjoy the on-site pool and sauna.
Located in the picturesque southern section of Goa, the Heritage Village is just two minutes from Arossim Beach. Featuring a historic theme that pays homage to the Portuguese era, this resort is ideal for family vacations. It is conveniently located only 15 minutes away from Dabolim Airport and about 30 minutes from the city. If you're traveling with children, you can take them to the on-site kids' club or the kids' club.
The luxurious rooms are equipped with modern facilities and elegant interiors. A spacious bedroom has a double bed and a sofa, and a private balcony offers a view of the pool or lush green surroundings. The spacious bathroom has a shower. Each room features an LCD television, DVD player, and high-speed Internet. The spa and fitness center are a great addition to any luxury Goa vacation.
7. Royal Orchid Beach Resort And Spa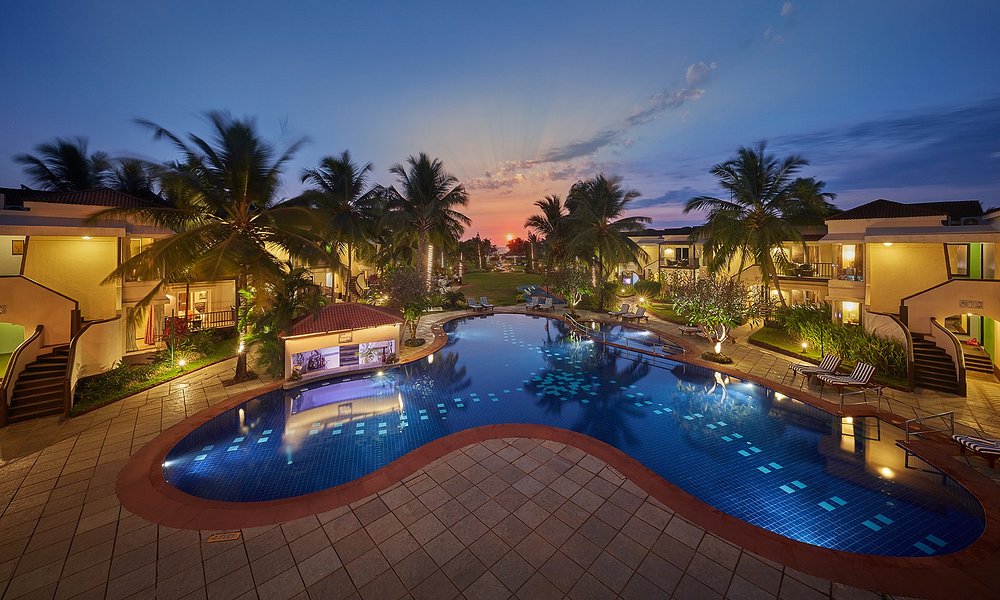 Located on the shores of Colva Beach in South Goa, the 5-star Royal Orchid is the perfect destination for a wedding, a social celebration, or a business meeting. The hotel features three restaurants, a spa, and conference facilities. Additionally, the property offers limo/town car service and contactless check-in. If you're traveling on business, the hotel also provides airport and train station pick-up services.
The Royal Orchid Beach Resort and Spa, Goa, has been recognized for its impeccable service. The hotel has been named among the top 50 hot brands in Bangalore by Paul Writer, India's largest travel and tourism show, and has received numerous awards for its hospitality. The resort's impressive list of amenities includes a hot tub, a fitness center, and an outdoor pool. Its renowned spa features will soothe your aching muscles and provide you with the ultimate in relaxation.
The hotel offers complimentary parking for those arriving by car. Front desk services include luggage storage, concierge services, express check-in, and safety deposit boxes. Tours and ticket services are also available. Additionally, laundry and dry cleaning services are available. Guests are also encouraged to make use of the property's business center to stay in touch with vendors. If you're looking for a relaxing getaway on the beach, Royal Orchid Beach Resort and Spa is the perfect place for you.
8. Kenilworth Resort And Spa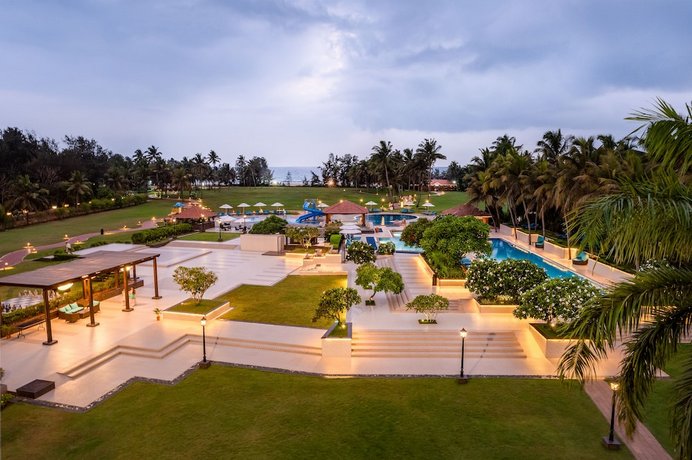 The Kenilworth Beach Resort and Spa in Goa offers a relaxing getaway. Guests can relax in the hot tub, swim in the pool, or enjoy a massage. The resort also offers car rental and taxi services. If you plan to go sightseeing, you can book a tour at the nearby Old Goa Fort. The hotel's staff is friendly and helpful.
Located on a beautiful stretch of south Goa beach, the Kenilworth offers luxurious accommodation in 101 rooms, including Presidential Suites and Executive Suites. All rooms are a haven of comfort and luxury. The resort offers multi-cuisine meals and seasonal water sports. It is an ideal location for meetings, weddings, and corporate events, and offers many recreational activities.
If you're a fitness enthusiast, you'll enjoy the resort's health club, sauna, and jacuzzi. The hotel's fitness center offers a full range of workout equipment, including a cardio machine. In addition to a well-stocked fitness center, the Kenilworth Beach Resort has a card room and video games. There are also water sports such as surfing, water slides, beach volleyball, basketball, tennis, and more.