If you're looking for the best luxury hotels in North Goa, there are several options to consider. These include the Taj Hotel and Convention Centre, the Taj Fort Aguada Resort and Spa, and The Crown Goa. You'll also find several other options in this article. Listed below are the top hotels in North Goa. If you haven't been to any of these hotels before, you should definitely read through these reviews.
1. Taj Hotel And Convention Centre
If you're looking for a luxurious stay in Goa, you should consider staying at the Taj Hotel And Convention Center. Located on a forested hilltop, this hotel has luxury rooms and is just a 10-minute drive from Panjim and 15 minutes from Negombo. The Taj offers several amenities for its guests, including a rooftop pool, three restaurants, and a spa.
Located in Panaji, the Taj Hotel And Convention Center Goa offers the perfect setting for an event or a wedding. The hotel features stately interiors and chandeliers, an infinity pool, and a rooftop terrace. Relax on the rooftop deck, and visit the Jiva Spa for a full body massage or a treatment. The hotel also offers special family services. This hotel is one of the best luxury hotels in North Goa.
2. Taj Fort Aguada Resort And Spa
The Taj Fort Aguada Resort Andamp; Spa, Goa is located in the heart of Goa, around 6.6 km from Baga Beach. Whether you want to relax with a drink on a terrace or enjoy some fresh air with a refreshing dip in the pool, this hotel has the perfect accommodations for you. For instance, all of the rooms at Taj Fort Aguada Resort Andamp; Spa have balconies or terraces, cable TV and iPod docks.
The luxurious accommodations at the Taj Fort Aguada Resort & Spa have a Portuguese-inspired decor, private sit-outs, a swimming pool, and four dining areas. The hotel offers a wide range of activities, such as snorkeling, deep sea fishing, diving, and rappelling. The hotel also has a full-service spa. The property also offers a variety of activities, including yoga and Pilates.
The Taj Fort Aguada Resort & Spa is located nearby the 16th Century fort. The hotel is located on 45 acres of verdant landscape with breathtaking views of the Arabian Sea. The property offers free wifi and 24-hour security. For added security, the hotel has a safety deposit box and luggage storage. The rooms at Taj Fort Aguada Resort & Spa are spacious and comfortably furnished.
Suggested Tour Packages
3. Taj Holiday Village Resort And Spa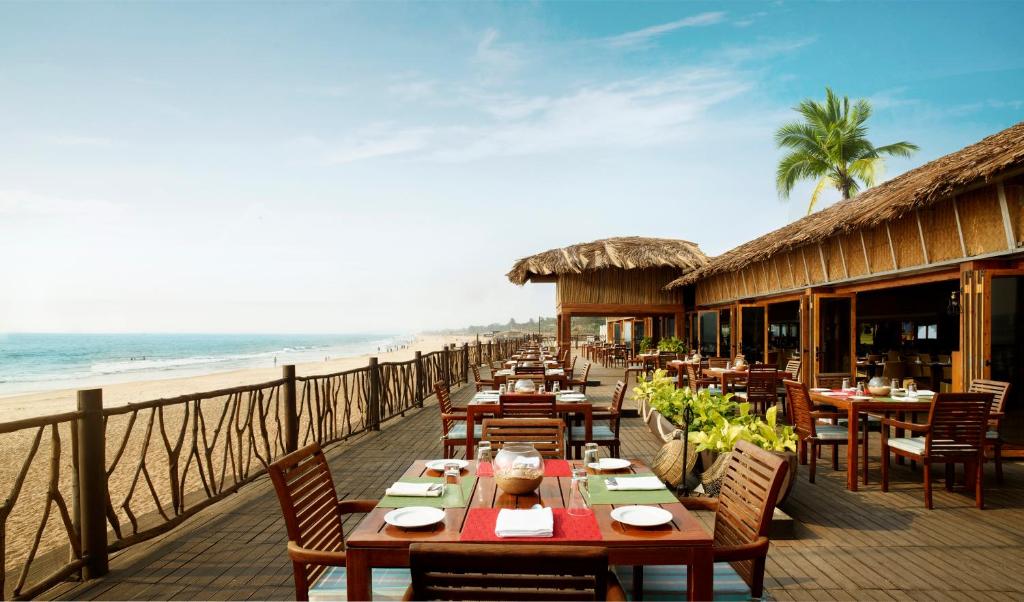 The Taj Holiday Village Resort And Spa is an expansive family-oriented beachfront property with 142 rooms. The interiors range from traditional to modern and feature colorful carvings and open-air lounges. There's a golf course and five-hole course, as well as a restaurant that offers a fine-dining Thai meal. This beachfront hotel offers complimentary shuttle service to nearby neighboring tourist attractions.
Guests can enjoy the sea breeze and a poolside lunch or dinner at the Vivanta restaurant. The hotel's renowned Jiva Spa offers a range of treatments and therapies, including aromatherapy and ancient Indian massages. Guests staying at the Taj Holiday Village can also take part in a yoga class, or work out at the hotel's extensive fitness center. The hotel is also home to several tennis courts and a fully equipped gym.
If you'd like to sample a variety of cuisines, the resort offers three restaurants for you to choose from. The Beach House serves authentic Goan cuisine, while Thai Banyan-Tree offers international dishes. Whether you're hungry for a hearty meal or a light snack, the dining experience will be memorable. The food is so good that you might even want to order a second dinner after your dinner!
4. The Crown Goa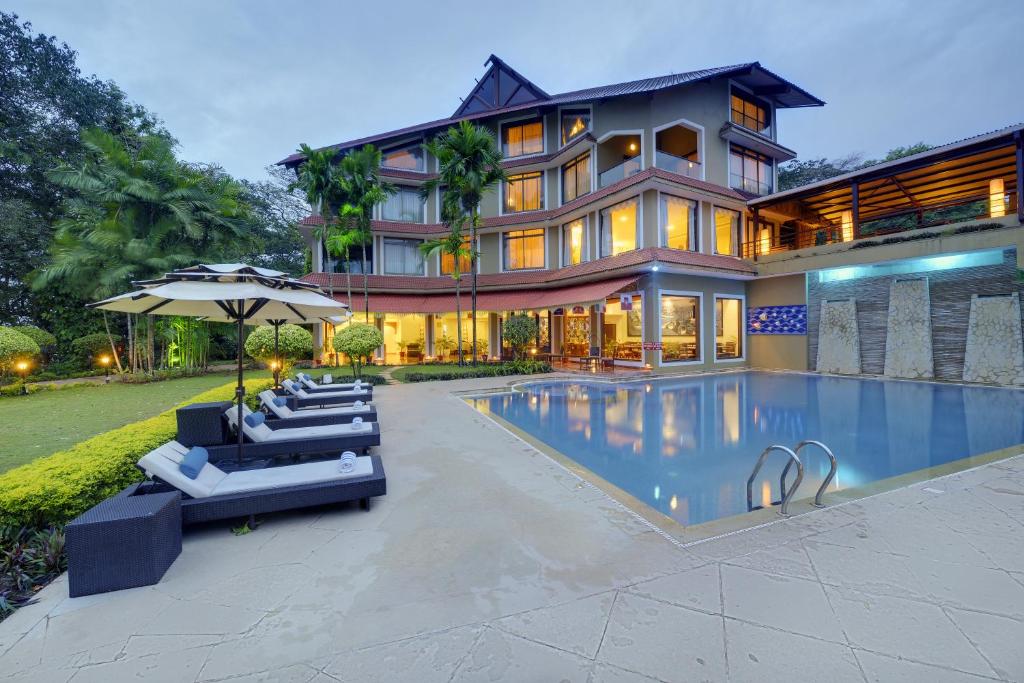 The Crown Hotel Goa provides luxurious accommodation with a comfortable blend of privacy and modern amenities. Its 43 spacious air-conditioned rooms offer views of the Goa coastline. You can choose from smoking or non-smoking rooms, depending on your preferences. You can also request for rooms for the physically challenged. The rooms at The Crown Goa include modern amenities like bathrobes and cable TV.
There are two in-house restaurants at The Crown Goa Hotel and Casino. The Harbour Cafe serves gourmet Indian, continental, and Goan cuisines. It is open 24 hours a day. There is a pool and a lounge bar for an evening drink. The rooms at The Crown are spacious and comfortable, but could use some updating. You can enjoy your drinks at the bar, which also offers free WiFi.
The Grand Hyatt Hotel is one of the best luxury hotels in the area. It has outdoor and indoor pools and an aerial runway. It also has an onsite casino. Its spa is one of the best in the country. There are various restaurants and bars at The Crown Goa, including the famous Cleopatra. The rooms are well-decorated and include traditional architecture and Ayurvedic massage.
5. Cidade De Goa
The best Luxury Hotels in Cidade de Goa will take you back to the glory days of regal Portuguese aristocracy. The quaint town's architectural style has won it international acclaim. The hotels in Cidade de Goa offer warm hospitality, impeccably furnished rooms and a great sea view. Many also offer spas and a variety of entertainment options.
The 5 star hotels near Cidade de Goa offer timeless charm and exotic locales. Guests will find exquisite dining options and a luxurious spa. The swimming pools and saunas are world-class. They are ideal for relaxing in a heavenly environment. A stay in one of these opulent hotels will be a once in a lifetime experience. Here, you'll be treated like royalty, with impeccable service and the finest amenities.
While visiting Cidade de Goa, stay at a luxurious hotel that offers direct access to a private beach. Its undeveloped, south-west-facing beach has a kilometer-long stretch of land between it and the sea. Although you won't see the sun set into the ocean from your room, you'll have access to the spectacular light show at sunset. If you want to go out and explore the area, the nearby Miramar Beach is 5 minutes away. Miramar Beach is one of Goa's most popular beaches, with three kilometers of soft sand beach front. You'll find plenty of shacks and shops along the way, and you can try out a range of water sports.
Suggested Tour Itineraries
6. Resort Rio Goa
One of the best luxury hotels in North India is Resort Rio, which has a royal charm and is located on the banks of the Baga river. The architecture and decor of this Goa resort are exquisite, and you will also be impressed by the spacious rooms and the luxurious spa. This Goa hotel is the ideal choice for a dream wedding. There are a number of restaurants here, including the world famous Café Rio.
There are two amazing swimming pools and a state of the art gym at the Resort Rio Goa. Other luxurious facilities at the resort include an outdoor lawn and a state-of-the-art gym. It also has a huge ballroom and provides royal services for weddings. It is located near some of the best beaches in North Goa and offers an exquisite setting. However, you must know that luxury hotels in Goa can be expensive, so make sure to budget accordingly when choosing a place to stay.
7. Novotel Goa Resort And Spa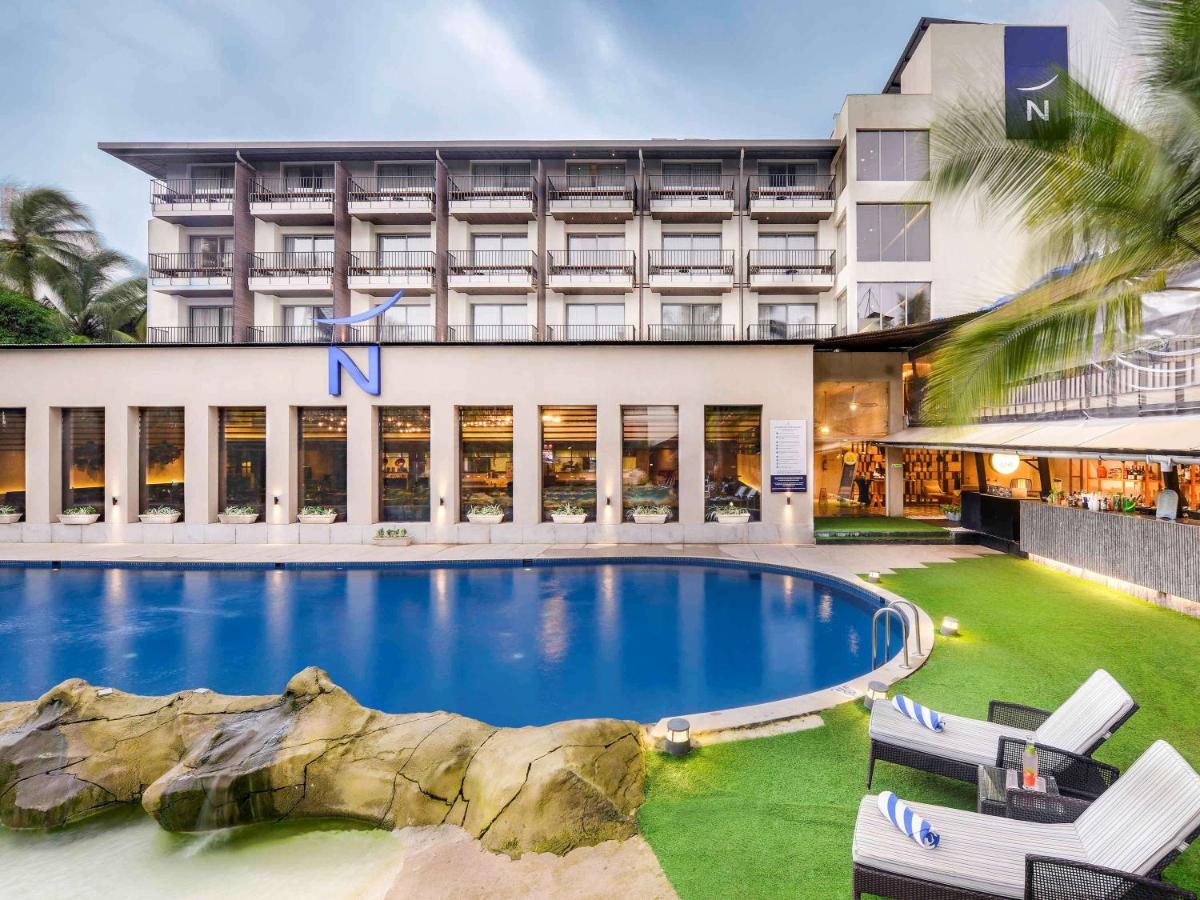 The Novotel Goa Resort and Spa offers a relaxed ambiance for a memorable vacation in this tropical destination. The hotel's Warren Tricomi spa has a traditional wooden structure that is surrounded by tropical vegetation. Relax with a massage at the hotel's spa or enjoy a rejuvenating swim in the infinity pool. Guests can also indulge in traditional Ayurveda, Swedish, or Hawaiian lomilomi therapies at the Warren Tricomi Spa. For additional relaxation, the hotel also offers a gym, a concierge, and a spa.
Located a short drive from the pristine Candolim beach, Novotel Goa Resort And Spa boasts 121 rooms and suites with a variety of amenities. The rooms are fully equipped with amenities such as cable/satellite television, refrigerator, and minibar. The hotel offers a full array of dining options, including an on-site restaurant with a global menu and a swim-up bar.
8. Hilton Resort
This elegant hotel is set on the beaches of North Goa. Its rooms are well appointed, and the furnishings are both modern and antique. Guests can enjoy free Wi-Fi throughout the hotel, and they can use a 24-hour fitness center to stay fit. The hotel has several dining options, including a restaurant serving local dishes. The staff at the hotel are attentive and helpful. The restaurant serves a variety of dishes that are sure to delight your taste buds. This sea-side resort has 108 rooms that feature views of the Nerul River. Some rooms feature balconies or plunge pools. The Hilton Goa Resort offers two restaurants, the acclaimed multicuisine @Saipe and the Mediterranean-inspired Miguel Arcanjo. The hotel also offers water sports, spice plantation tours, and a pillarless ballroom for meetings. Guests can enjoy the beautiful scenery from the private beach or the banquet hall.