There are some great luxury hotels in South Goa, but which ones are the best? You'll find out in this article. We've listed Alila Diwa, The Leela Goa, ITC Grand Goa, and the Zuri White Sands and Resorts. Which one is right for you? You can choose from any of these hotels and more. And we've included a few things to look for in any hotel.
1. Alila Diwa
Set in Majorda, the luxurious Alila Diwa offers an array of dining options and free breakfast. You can also indulge in a variety of activities like yoga sessions and cookery courses. If you want to get out of the hotel and explore the surrounding area, you can also take an Alila Cooking Masterclass. The hotel offers complimentary shuttle service to and from the beach. The Alila Diwa is a great choice for a luxury getaway to the south coast.
The spacious and comfortable rooms at the Alila Diwa are a major attraction. The facilities were excellent and the service was great. I had a wonderful stay at this 5-star property. There were separate pools and restaurants and the food was delicious and varied. The Alila Diwa offers both Indian and Italian cuisine, as well as an a la carte menu for dinner. The hotel has a theatre, spa, and ala Carte dining options.
2. The Zuri White Sands And Resorts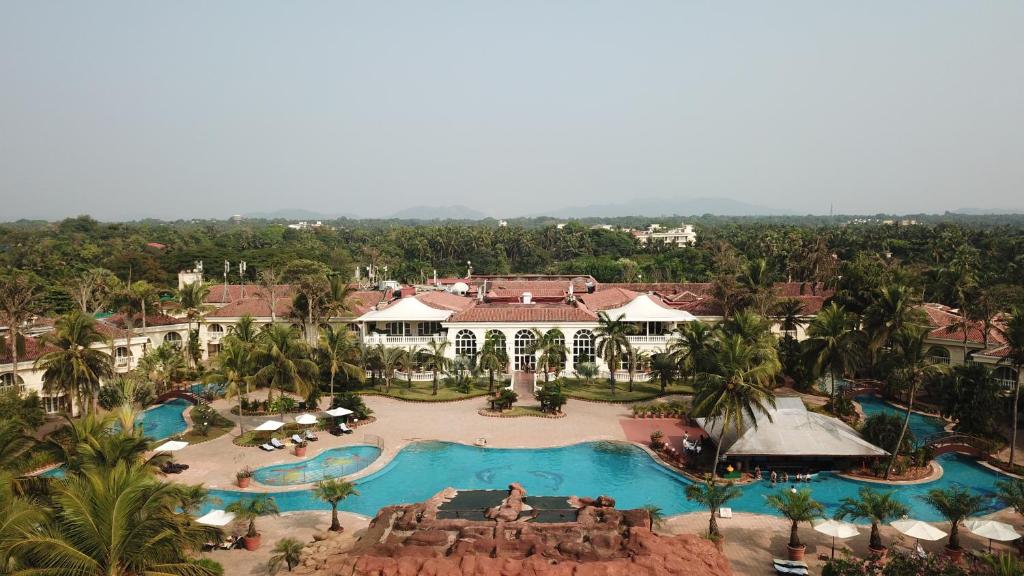 This beachfront resort is a good choice for a beach vacation in Goa. There are two pools at the resort, one for adults and one for children, with direct access to the beach. The resort also has a large dining area and a kid-friendly pool. Service is courteous, although the staff can sometimes be overloaded with requests
The hotel is situated near St Anthony Chapel. It is also accessible via public transportation, with a train station and bus stand within 6 km of the property. Guests can enjoy a massage, play a game of volleyball, or just relax in the hot tub. Some rooms come with an extra bed, so you can bring an extra friend or family member. If you plan to bring your family, you can ask them to share a room with you and they can stay at different Zuri hotels.
The Zuri White Sands And Resorts offers themed suites for families and couples. Spacious rooms with private balconies offer sea views. For an even more romantic getaway, the casino on site offers thrilling games. Other amenities of the Zuri White Sands And Resorts include a steam sauna, a gym, and a kids' play area. If you're looking for a luxurious getaway in North Goa, you should choose the Zuri White Sands And Resorts.
Suggested Tour Packages
3. The Leela Goa
Located on the beachfront, The Leela Goa offers an array of services for a memorable stay. Guests can relax in the spa or indulge in Ayurvedic massages and treatments. The hotel also offers a 12-hole golf course and other recreational activities, including yoga, tennis, beach volleyball, and archery. Guests may also opt to dine in their rooms or have in-room dining.
The Leela Goa offers luxurious accommodations on 75 acres of grounds. The rooms are spacious and decorated with calming colors. The resort also offers a private Club Section that features a 12-hole par-3 golf course, a private Club Pool, an intimate bistro, and a dedicated Club Beach. The service at The Leela Goa is impeccable and attentive, as is the attention to detail.
The Leela Goa is one of the most beautiful luxury hotels in South- an elegant five-pearl resort that is popular with both tourists and business travelers. Set near the Sal River, this resort features lush greenery and lagoons. Rooms have balconies overlooking the Arabian Sea. The luxurious service at The Leela Goa includes a complimentary shuttle service from the beach to your room.
4. ITC Grand Goa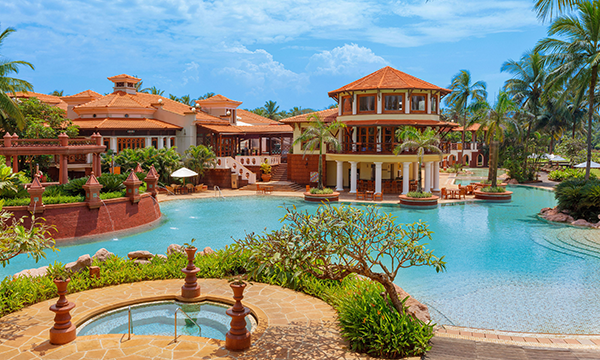 Situated on the serene South Goa coast, the ITC Grand is the perfect spot for a luxurious holiday. The resort has direct access to the beautiful Arossim beach and sits amidst 45 acres of landscaped gardens and shimmering lagoons. It is only a 15-minute drive from the International Airport. The resort offers a variety of luxurious accommodations in the heart of Goa.
Set on 45 acres of landscaped gardens, the ITC Grand Goa Resort and Spa offers the perfect retreat for both business and pleasure travelers. The hotel features 6 dining venues and an outdoor rain shower. For added relaxation, the ITC offers wedding services and spa services. Guests can also arrange for special activities such as heritage tours and dance performances. A visit to this luxury resort is an excellent way to explore Goa's cultural heritage.
The ITC Grand Goa is a gorgeous hotel that is designed to look like a traditional Goan village. The property spans 45 acres of greenery and features little bridges and winding paths. The hotel also features a restaurant in the village square. All rooms are individually decorated and offer views of the sea or lagoon. A complimentary yoga class is also offered. If you're traveling with children, there are supervised kids' clubs and a special kids' club.
Suggested Tour Itineraries
5. Kenilworth Resort And Spa
If you want to spend a romantic honeymoon in the lap of nature, the Kenilworth Resort & Spa is the perfect option. Located in Salcete, this luxurious hotel is a 14-minute drive from the Dabolim International Airport. The hotel has six dining venues and an open-air jacuzzi. Guests can also enjoy an outdoor pool, multi-cuisine cuisine, and massages. The hotel is also an ideal venue for corporate events, meetings, and weddings.
The Kenilworth Beach Resort & Spa is situated near some of the most famous beaches in Goa. It offers spacious rooms with state-of-the-art facilities and Portuguese-style architecture. To make the most of your stay at the hotel, request a room facing the swimming pool. Guests can also request a presidential suite if they so desire. The Kenilworth Beach Resort & Spa offers five star accommodations. The hotel has 107 elegant rooms, each with a terrace.
The luxurious suites offer Portuguese-style decor and uncompromised comfort. Some suites have spectacular views of the landscaped pool. Dining options range from multi-cuisine all-day dining to casual outdoor trattoria. The hotel's beachfront restaurant offers live entertainment and brews from around the world. You'll never want to leave the hotel! This luxurious hotel in North Goa has everything you need to feel relaxed and rejuvenated.
6. Salcete Beach Resort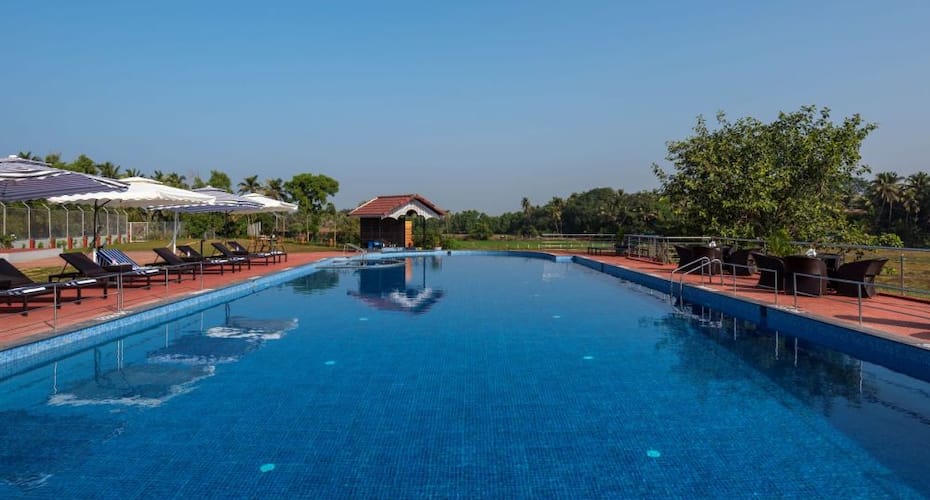 Set amidst verdant gardens, the serene Salcete Beach Resort is a sanctuary for the senses. The lush lawns, flower beds, and majestic trees provide a picturesque backdrop to the rooms of this luxurious Goa beach resort. Rooms here have contemporary amenities and a quaint interior that makes guests feel right at home. This hotel is the perfect choice for a relaxing and rejuvenating vacation.
Located on five acres of land, the hotel offers luxurious rooms and suites, including plunge pool suites, deluxe suites, and room-only villas. The property offers free wi-fi, a fitness center, and seasonal tents. There are several types of resorts in the area, including the Lemon Tree, which offers budget accommodations. These are great choices if you're on a tight budget.
A trip to Goa wouldn't be complete without a stay at one of the luxury hotels here. These hotels feature lavish interiors and five-star restaurants, spacious rooms, and a beautiful view of the beach and ocean. The staff at these hotels are friendly and professional, and they offer a variety of activities and services to help guests feel at home. Many of the luxury hotels in Goa have an oceanfront setting, which allows guests to enjoy the natural beauty of the region.
7. Sobit Sarovar Portico
Whether you are on a family vacation, business trip, or both, Sobit Sarovar Portico is the place to stay. The hotel is beautifully designed with many amenities for all types of guests. The Sala de Cristal hall can accommodate 350 guests and has separate rooms for pre-functions and the main event. Several different events can be held at the same time, including a wedding and a conference.
The Sobit Sarovar Portico is a premier luxury hotel in Goa. Located right on Palolem beach, this Goa resort offers elegant decor and breathtaking views of the region. This property has beautiful event space with an elegant lawn. And for those looking to host a reception, the luxurious rooms are perfect. Whether you are hosting a small party or an elaborate event, Sobit Sarovar Portico has everything you need. In addition to the luxurious Sobit Sarovar Portico Hotel, guests can enjoy the relaxing spa at the Holiday Inn. The hotel is set on 45 acres of land and features suites and villas that look out onto the sea. The hotel offers modern amenities and a private dining option on the beach. It is also popular with business travelers, as the hotel has a conference room and Wi-Fi facility.