Depending on your budget and needs, you can stay in one of the several luxury hotels in Leh. You can choose from a range of options, such as the Stock Palace, Ladakh Sarai, Nimmu House, and Hotel Snow view. For the best view of the Himalayan peaks, you can book a corner room. It is also possible to opt for a suite, which provides an even better view.
Hotel Snow view
The Snow View Ladakh is a luxurious hotel located in Leh. It is located about a kilometer away from the city center, making it an ideal place to stay. This property has a pleasant atmosphere, cable TV, and room heaters. It also offers airport shuttle service. The hotel's restaurant serves a wide variety of Tibetan and Indian dishes. All rooms have a private bathroom.
The Snow View offers 5-star luxury accommodation and modern facilities to its guests. Its 27 modern rooms are divided into Suite, Deluxe Single, and Deluxe Double. The hotel offers a variety of amenities to suit all budgets. It has a conference hall and VIP lounge, elevators, a jogging track, and a lawn. The hotel also offers organized treks through the Ladakh valley. Book Ladakh Tour Packages
Ladakh Sarai
For those seeking a relaxing vacation in the Himalayas, Ladakh Sarai Resort is a great choice. This eco-resort offers spectacular views of the Stok Kangri, the highest peak in the Stok Range. Located only six km away, you can also visit the Mani Wall. Ladakh Sarai also offers luggage storage, car hire, and a doctor on call. Other benefits of staying at Ladakh Sarai include free internet, bicycle rental, and a children's playground.
The resort offers three distinctive accommodations on the property. The first floor has a yoga class, while the meditation center occupies a 4-acre property. On the main entrance, prayer wheels greet guests. While you're staying at Ladakh Sarai, you can take a dip in one of three pools. The pool and fitness center are a short walk away. It's also within easy reach of the city's main attractions, including the Mani Wall and Sindhu Ghat.
While staying in a five-star hotel is no doubt a luxurious experience, there are many advantages to choosing it over a standard hotel. Many of these five-star hotels feature world-class facilities and services. Some hotels offer 24 hour room service, a business center, meeting rooms, and car rentals. Some hotels also have porters and concierge services, so you can always count on professional help when needed.
Stock Palace
There are many amenities and services provided by the Stock Palace luxury hotels in Leh Ladakh, and it is one of the best options for a luxury vacation in this region of the country. In addition to the five-star amenities, this hotel also features a conference room and provides internet access. The staff is attentive and offers several free services for its guests. The starting price for a deluxe room is INR 6000.
This luxury hotel in Leh Ladakh offers well-appointed and spacious rooms with modern amenities. It has 27 rooms, each divided into Deluxe Single, Deluxe Double, and Suite. Prices are moderate and the rooms are well-appointed. The hotel also offers treks in the Ladakh valley and has luxury tents available for hire. The restaurant at Stock Palace Leh Ladakh serves Indian, Chinese, and Ladakhi food.
The hotel also offers spa treatments and a concierge desk. Its ambiance and views of the Stok Kangri Range make it one of the most popular hotels in Leh. The hotel is located just 1.5 km from the Chulung bus stand, and offers 28 options for accommodations. Guests can enjoy the scenic views of the city from their rooms, as well as local cuisine and beverages. A double deluxe room costs around INR ten thousand.
Nimmu House
Located in the picturesque village of Nimmu, 30 minutes from Leh, the Nimmu House is a stunning piece of Ladakhi architecture. Originally built by a distant relative of the Ladakhi king, the luxurious Nimmu House has been lovingly restored using traditional materials. The five-bedroom main house is a stylish bolthole, while the seven luxury tents are located in a beautiful garden. The staff are helpful and friendly, and the location is unbeatable for those who are looking to get close to nature.
The luxury Nimmu House offers yoga retreats and well-being retreats. The hotel also serves delicious European and local fare to guests. Room rates start at 10,500 rupees for a double deluxe room. It is one of the best five star hotels in Ladakh. Read on to learn more about Nimmu House. While staying in Leh, you can enjoy the beauty of this beautiful mountain range.
Hotel Ladakh Residency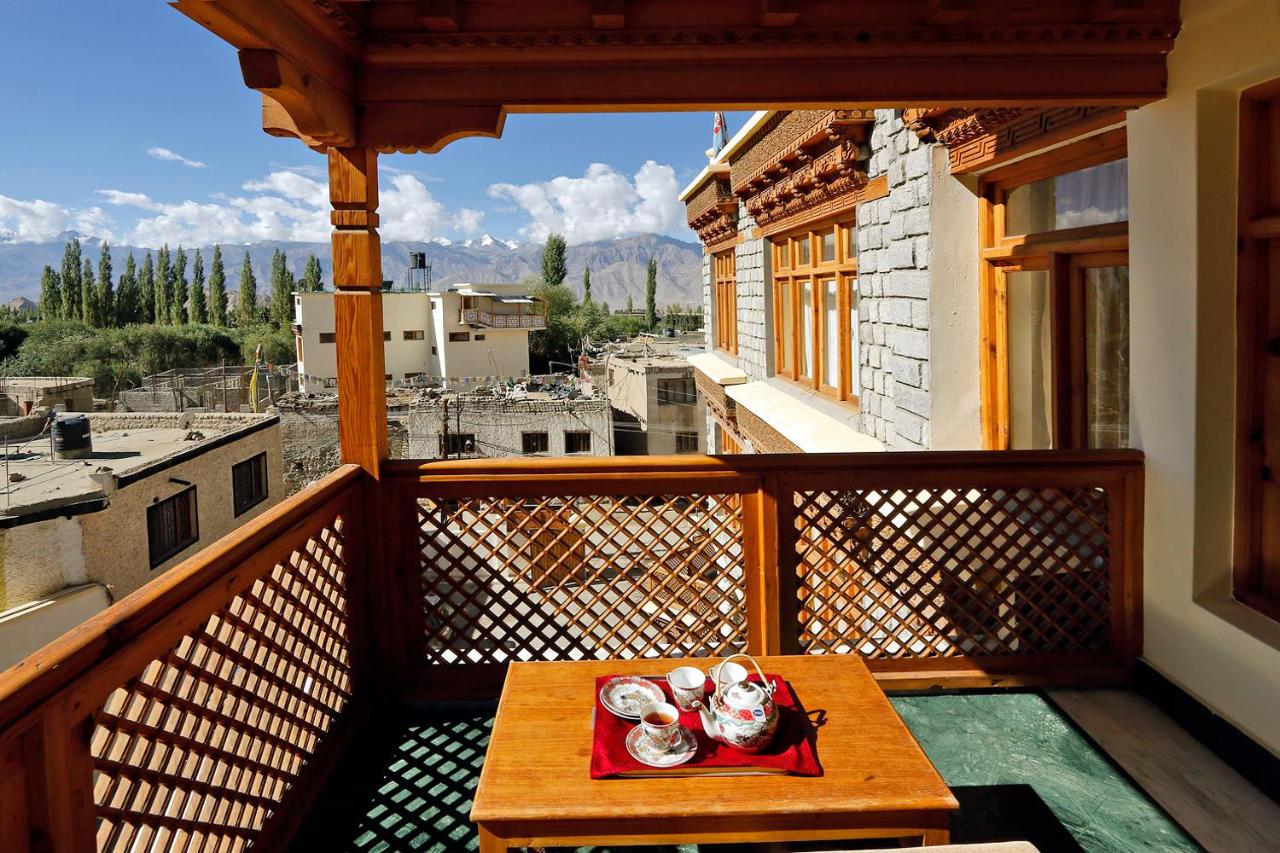 Located in Leh, the Ladakh Residency offers a range of services and facilities to suit your needs. Free private parking is available, as is a bicycle rental service, and the hotel offers concierge services and room service. Free Wi-Fi access is available. Car hire is also available, if you don't have your own vehicle. Guests can make use of the concierge service for help with local sightseeing and reservations.
The hotel has a number of restaurants, and guests can choose from several cuisines. The Dontang restaurant, for example, specializes in pizza. The Indian Kitchen, located 2.9 km away, is another great choice. It promises to offer the best fusion meals in the area. If you don't feel like cooking, you can always stop by Happy Leh. The cafe serves both breakfast and lunch.
Hotel Lasermo
If you're looking for the ultimate in luxury Hotels in Leh Ladakh, you can stay at one of the five-star luxury hotels in the area. With modern amenities and a quaint feel, these hotels offer the perfect retreat. There are 27 guest rooms, including suites and deluxe singles, and they range in size from modest to luxurious. The restaurant serves Indian, Chinese, and Ladakhi cuisines, as well as international specialties.
Those seeking the ultimate in luxury and service can choose from one of the five-star Leh hotels. These hotels provide the finest in services and amenities, treating guests like royalty. Although they're typically more expensive than other accommodations in the area, these luxurious hotels offer an unparalleled experience for those looking for a special getaway. If you're on a budget, look for information on online travel sites. Most sites have ratings and reviews of some of the best-rated hotels in Leh Ladakh.
Hotel Pangong
In the town of Leh, one can find luxurious hotels offering world-class facilities. Five-star hotels are the ultimate getaway for travelers seeking world-class services. The prices of these hotels may be a bit steep, but that is all relative to the quality of your stay. You can find information about the best-rated hotels in Leh on online travel sites. Here are some of the best options:
Hotel Pangong: This hotel has been in the hospitality business since long, when Ladakh opened to tourists from around the world. This luxurious four-star deluxe hotel offers contemporary amenities and comfortable accommodations. The views of the mountains are stunning and the room decor is lavish and luxurious. Its terrace restaurant serves Chinese, Indian, and continental cuisine. You can enjoy a romantic dinner with your loved one in the grand dragon's restaurant.
Hotel Druk
One of the top luxury hotels in Leh Ladakh can offer the perfect base for exploring the region's culture and natural beauty. The hotel's boutique design is in keeping with the rural surroundings of this remote region, and the hotel's amenities are of the highest standard. The hotel is located on a hilltop and is surrounded by orchards. Guests are treated to first-class hospitality and world-class facilities, including free Wi-Fi and private parking.
A five-star hotel in Leh Ladakh will provide world-class services and amenities. These luxurious hotels feature 24 hour room service, a business center, conference rooms, car rentals, and concierge services. The amenities in these hotels are of the highest standard, including a spa, sauna, and indoor swimming pool. The location of these luxury hotels is ideal for people traveling for business or pleasure. The luxury hotels in Leh Ladakh are well-maintained and offer comfortable rooms and modern facilities.
Hotel Spic N Span
The Spic n Span is one of the luxury hotels in Leh, Ladakh. Its central location makes it an ideal place to stay, and it also offers a host of facilities, including a 24-hour front desk, a concierge service, and wireless internet access. Whether you are staying in one of its 38 guestrooms or the entire hotel, you'll appreciate the stylish decor, complimentary wireless Internet, and a wake-up service. Guests will also appreciate the fact that the Spic n Span Ladakh has a garden and recreational facilities for their guests to enjoy.
The Spic n Span Leh hotel offers modern amenities, but its traditional Ladakhi architecture gives it an authentic feel. The hotel offers rooms with private bathrooms and free parking. The hotel is also within walking distance of the main market, so you can easily get around town. The Spic n Span Leh has 35 double rooms with en suite bathrooms and a garden terrace. Guests can enjoy the views of the mountain range from the comfort of their rooms.The Hotel Spic N Span offers a low-priced option. The hotel's rooms are centrally heated and equipped with TVs. Rooms in the upper category are comfortable and offer ample sitting space. Beds are single or double-bedded and have fine drapes. For dinner, guests can choose between Indian, Chinese, or Continental dishes.
Hotel Aayali
When visiting the beautiful and remote city of Leh, the best accommodation is in one of the luxurious hotels. These hotels blend traditional Ladakhi hospitality with modern amenities. Rooms at these luxury hotels are spacious and feature a private balcony. Some even feature spas and hammams. However, the luxury hotels in Leh are not cheap and you will need to spend a good amount of money to enjoy your stay here.
Staying at Hotel Aayali is a great idea for those who want to see the city and enjoy the natural beauty of the area. The hotel is situated in the Old Road of Leh and offers an excellent service. The stylish interiors are reminiscent of Ladakhi homes and combine great service with a relaxing atmosphere. You can expect top-notch amenities at this hotel, and the view of the Himalayas from your room is amazing.
If you are looking for a luxurious stay in Leh, Hotel Aayali offers a variety of rooms and suites. Rooms at this hotel are spacious and well-appointed, and many of them feature spectacular views of the surrounding mountains. Rates at this hotel start at INR 5600 per person. The hotel has a terrace lounge, free wifi, and housekeeping.
Best Time to Visit Ladakh
When is the Best Time To Visit Ladakh? If you are planning a trip to Ladakh, you've probably wondered what the best time of year to visit is. The answer depends on what you're looking for in a trip. In general, the warmer months are best for sightseeing and hiking, while cooler months are perfect for white water rafting and skiing. In addition, there are several festivals to attend, such as the Karsha Gustor festival, which marks the triumph of good over evil. During the Karsha Gustor festival, you can see the world-famous Black Hat Dance performed.
The weather in Ladakh can be unpredictable, so you should plan your trip accordingly. The best time to visit is when the temperature is between five and 21 degrees Celsius. However, keep in mind that you may experience a little rain during this time, so be prepared for this. The monsoon season begins in mid-August, and this means rivers will be full. Fall is also peak season, and roads will be in better condition than they will be during the summer months.
June to September is the most popular time to visit Ladakh. However, if you are planning a honeymoon, June to August can be a bit too cold. However, July to September are ideal if you are planning a road trip to the region. The roads are also drier, and you'll have fewer challenges on your journey. During this time, you can also expect the best hotel deals.
Popular Festivals Of Leh Ladakh
The popular festivals of Leh Ladakh are colorful and vibrant. These events showcase the diverse culture of this region. These festivals are a mix of Buddhist and Tibetan cultures, with a strong emphasis on good luck and warding off evil spirits. If you are visiting this region, you should take part in one of the festivals to experience the real spirit of the place. Here are some of the most popular festivals in Leh Ladakh:
Losar: This festival is celebrated over a month in Leh and Ladakh. During this festival, people feed food to the gods, animals and ancestors. It starts in the eleventh month, two months before Tibetan New Year. In addition to the feast, people also light up their homes with candles and offer sacrifices to the Gods. These celebrations are a way to celebrate life and celebrate the New Year.
Hemis Tsechu: The two-day festival culminates with a sacrificial offering. Local pilgrims wear their finest costumes and jewelry to participate in the celebration. Monks play traditional instruments and perform sacred dances known as Chams. The dancers wear colourful robes and imposing masks. The atmosphere is spiritual and enthralling. While visiting the monastery, don't miss the Hemis Tsechu.
Matho Nagrang: This festival is a highlight for the locals. It marks the return of the two oracles. Monks dress in colorful robes and dance to celebrate the festival. The festival takes place on the 14th and fifteenth day of the first Tibetan lunar month. The festival is held at the Matho monastery, the only major Buddhist establishment in Ladakh. It is a two-day celebration and is an important event for visitors, locals, and researchers.
How to Reach Ladakh
When you are planning a trip to Ladakh, you must know how to reach there. The journey is quite long, and it involves a long stay in the plains. You will need to travel about five to six days if you plan to travel by road. The distance from the nearest cities to Ladakh is around 900 km. You will need to hire a private vehicle to complete your journey, which can take about three days.
If you are travelling by road, the quickest and most convenient way is by bus. Buses from Manali and Srinagar stop in Keylong, which is the administrative center of Lahaul. Once in Keylong, make a stop at the Kardang monastery, which overlooks the town. Once there, you'll have plenty of time to explore the town and its surroundings. If you'd prefer to take a bus, be sure to reserve a seat well in advance.
Another way to reach Ladakh is by car. While the roads remain closed from November to April, they are generally open from May to October. However, be aware that roads in Ladakh are steep and difficult to navigate. For this reason, you should prepare your vehicle at least two weeks ahead of time. You should also take a test ride in the city to make sure that it's comfortable for a road trip.There are two possible ways of reaching the city of Leh one is through the Zozila pass going through the Sonmarg, Kargil towns this road is very smooth and doesn't presents too much difficulty for the commuters while the Leh Manali route has more high passes and rough weather the road is also not very smooth and there are lots of rough patches.