The City of Delhi sure is now a concrete jungle but if you are a bird lover then you have some excellent spots not very far from Delhi, you can explore these bird sanctuaries easily from Delhi some like Okhla Bird sanctuary and Surajpur are so near that it won't take hours to reach them.
Okhla Bird Sanctuary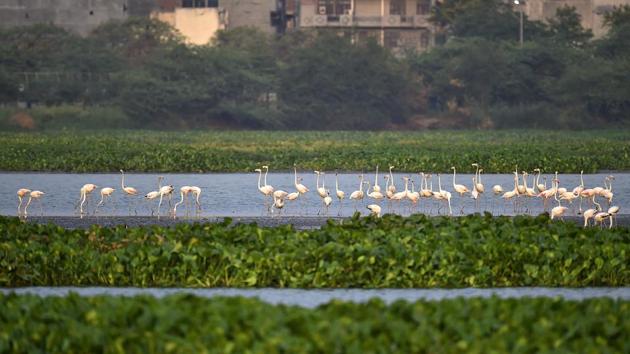 The Okhla Bird Sanctuary is located on the bank of the Yamuna River at the Okhla barrage, on the Delhi-Uttar Pradesh state border. It is a paradise for waterbirds and over 300 species of birds. In fact, it is the largest bird sanctuary in the world. Visitors can spot migratory birds, waterbirds and rare species that live only here. This sanctuary is open to the public and is free to visit.
Visitors to Okhla Bird Sanctuary can also see rare species of birds and plants, including the critically endangered White-rumped vulture and Indian vulture. Other birds you might see at the Okhla Bird Sanctuary include Baikal Teal, Sarus Crane, Baer's Pochard, and the socially-minded Ferruginous Pochard. You can even see the endangered Black-bellied Tern and Grey headed Fish Eagle. You can also see the endemic and endangered Indian Skinmer, Bristled Grassbird, and Finn's Weaver.
The best time to visit the Okhla Bird Sanctuary is during the cooler months of October and March, when the birds are most active. However, visitors should keep in mind that it can be extremely hot in the summers, so plan your visit for an early morning or late afternoon. There are a number of bus services in the region that will pick you up from your hotel and drop you at the Okhla Bird Sanctuary. You will be able to enjoy the sanctuary to the fullest!
The wetlands at the Okhla Bird Sanctuary are 3.5 square kilometers and provide an oasis for the birds in the midst of the concrete jungle. The wetlands have many trails that will allow you to explore the wetlands. Aside from being a great escape from the city, the wetlands provide a canopy of lush green hues to the area. You can also go on a picnic in the wetlands to enjoy the wildlife.
Surajpur Bird Sanctuary and Bio Diversity Park
When you visit Surajpur Bird sanctuary and bio Diversity Park, you will be able to witness hundreds of migratory and local species of birds. The entire year, visitors can experience this place's many natural wonders. You can also enjoy watching these beautiful creatures as they feed and reproduce. This place is a definite must-visit for bird lovers. So, plan a visit now and enjoy the diverse natural landscapes of the city.
The Surajpur Bird sanctuary is a wonderful wildlife park located near the National Capital. This place looks like a natural forest, yet it is surprisingly pollutant-free. It is a feast for nature lovers and visitors. It is open to visitors, and the only way to visit it is by foot. You'll be walking on an oval trail through the forest, which is both dusty and clear. You can spend about two or three hours here, so plan your visit accordingly.
You'll be surrounded by hundreds of local and migratory species of birds. In addition to the migratory birds, this sanctuary also houses a variety of species of storks, herons, crows, buzzards, and water peafowl. While you're there, don't talk loudly and try to stay in silence. Observing and photographing the migratory and local birds will make you feel close to nature.
Sultanpur Bird Sanctuary
If you're a birdwatcher, you'll surely love the Sultanpur Bird sanctuary. This 142-hectare park is located in Haryana, around 50 kilometers from Delhi and 15 km from Gurugram. The birds of Sultanpur flock to the bird sanctuary to mate, breed, and breed. You can also observe other birds, including bats, owls, and hummingbirds. To find out more about the Sultanpur Bird sanctuary, read on.
There are hundreds of different species of birds found at the Sanctuary of Wildlife. Some of the rare birds that can be seen here include the Blue bull, the Nilgai, and the Sambar. The Sanctuary also hosts various mammals including the Indian porcupine, leopard, and the Four-horned antelope. The sanctuary is open all year long, but most birds migrate during winter. The summer months are hot, but the bird sanctuary is open all year long.
Visitors can observe over 250 species of birds at the Sultanpur Bird sanctuary. Some of the most common species include the Siberian crane, Greater Flamingo, black-winged stilt, common teal, and common Greenshank. Some of the other birds include the rosy pelican and the yellow-wagtail. These species are migratory and may be seen at other times of the year, but the Sultanpur Bird sanctuary is a birdwatcher's dream.
The Sultanpur Bird Sanctuary has a total area of 359 acres. The national capital, Delhi, is about 34 km from the sanctuary, and is popular with tourists. Visitors must fill an entry form and bring a copy of a photo ID proof. You cannot bring picnic baskets or barbeques in the sanctuary. The Sultanpur Bird sanctuary is closed on Tuesdays. And don't forget to pack sunscreen! If you're planning to visit the Sultanpur Bird sanctuary, make sure to pack a picnic lunch.
Bharatpur Bird Sanctuary in Rajasthan
The Bharatpur bird sanctuary in Rajasthan is a popular destination for tourists. If you've never been to India before, you must give it a shot! Here, you'll learn about this amazing bird sanctuary. Visiting the sanctuary will also give you a great chance to see migratory birds. Here, you can see more than 350 species of birds, from local to migratory. The area is also located southeast of the ancient town of Fatehpur Sikri. This historic town is full of sandstone temples, mosques, and other structures.
Bharatpur Bird Sanctuary is a great place to observe the migratory birds and wild animals that call the area home. Once the hunting grounds of the Maharajas, the Bharatpur Bird Sanctuary is home to hundreds of birds. Other animals found in the sanctuary include the golden jackal, jungle cat, nilgai, and wild boar. In winter, you can also spot a few pythons.
While visiting the Bharatpur Bird Sanctuary, it is important to understand its climate. Since it's located on the brim of the Thar Desert, temperatures are mild. Winter is not extremely cold, but temperatures can be quite high. Springtime temperatures are slightly lower. The monsoon season begins in March and lasts until June. The temperature is mild during the peak winter months and is best for spotting migratory birds. In contrast, winter in Bharatpur is cooler and the area is deserted during this time.
Visitors can experience more than 230 species of birds in the Bharatpur Bird Sanctuary. Its avifauna is a world-class sanctuary, attracting thousands of tourists from around the world every year. The park has been designated as a UNESCO World Heritage Site and is a prime destination for birdwatching. Attracting migratory birds, Bharatpur is an essential stop on any birdwatching trip.
Pangot and Kilbury Bird Sanctuary
For all the nature lovers, the Pangot and Kilbury bird sanctuary is a must-visit location. Nestled at a height of 2,528 meters, the sanctuary has more than five hundred species of birds. You can hike or take a guided tour to discover the sanctuary. You can also book an overnight stay to experience the birds' beauty. To plan a trip to the sanctuary, make sure to include it in your Nainital itinerary.
The bird sanctuary is also a great place to view various types of mammals. You can spot Leopards, Yellow-throated Himalayan martens, and Ghorals. You can also see Barking deer and Sambhar. Visitors can visit the sanctuary anytime before sunset. While summer months are the most convenient, the climate can get chilly at night. In winter, the migratory waterfowls will be nesting in the nearby mountains.
The nearest airport is Pantnagar. If you're arriving by plane, you'll need to catch a taxi to Pangot and Kilbury Bird Sanctuary. This will take approximately two to three hours. You can also catch a local bus or cab from the main town of Nainital. You can also rent a car in Nainital and travel to the bird sanctuary from there. You can also hire a cab if you are coming by train. While visiting the Pangot and Kilbury bird sanctuary, you should be aware that it is a wildlife haven, as well. You'll come across Sambhar, Himalayan Goral, and Red Fox. To ensure your safety, you should visit the sanctuary only during daylight hours. And be sure to book a taxi if you're travelling solo. If you're looking for a comfortable place to stay in Nainital, you can visit Eco Cave Gardens and Astronomical Observatory as well.