Agra is a tourist's haven, and you can find plenty of 3-star hotels in the best locations. The goal of these hotels is to make your stay as comfortable as possible while providing fabulous facilities and services. This way, you can spend quality time with your loved ones. If you want to spend some time in Agra on a budget, there are some great options to choose from. Here are a few suggestions of Budget Friendly Three Star Hotels in Agra for your stay.
1. Hotel Howard the Fern Agra
Howard Plaza The Fern Agra offers personalised service in a comfortable and stylish setting. The hotel offers a mellow dramatic view of the Taj Mahal and free Wi-Fi. It also features a pool, free parking and express check-in. Located near the Taj Mahal, this budget three star hotels in Agra is 7.5 km from Agra Kheria airport. Guests enjoy a wide range of services, including wireless Internet, comfortable furnishings, and well-trained staff.
The hotel has a beautiful garden and authentic decor with antique furniture and professional housekeeping. The restaurant serves traditional Indian, Chinese, and continental dishes. The hotel has a large swimming pool and a relaxing spa. The hotel offers extra beds for guests, depending on the type of room you book. And, depending on your preferences, it offers a tea patio where you can sit and enjoy the city view.
2. Hotel Amar Agra
This Hotel is located on the busy Fatehbad Road ,This road connects the major important monuments of Agra with the railway station and the airport so all VIP visitors visit and use this road. The Tajmahal is not too far from this premiere budget friendly three star hotels in Agra .The Hotel has well appointed rooms with services of an open air swimming pool, Gymnasium,Very good restaurant serving Indian/Continental delicacies .The lobby is very tastefully designed .The rooms are comfortable with all modern amenities.
The Hotel is right in the center of the tourist area of Agra so you don't need to hire a conveyance to stroll in the Fatehbad road market.The Taj Mahal is also easily accessible from this hotel. Best part is the Hotel offers great discounts for the bookings.
Suggested Tour Packages
3. Hotel Taj Vilas Agra
This hotel offers fine accommodations with Indian hospitality. Located close to the Taj Mahal and the Agra Fort, it provides guests with convenient access to many attractions of the city. All the rooms are equipped with modern facilities and provide 24-hour room service. The hotel's restaurant serves delicious Indian, Chinese, and continental cuisines. If you plan to have a conference or a wedding, the hotel's conference hall is a great choice.
This hotel has an outdoor swimming pool, as well as a children's pool. It offers a 24-hour room service, a complimentary airport shuttle, and a restaurant. The hotel has a spa and a restaurant. You'll find everything you need at this three-star hotel. It also offers air conditioning and a free parking lot. While you're in Agra, you can relax in the Jacuzzi, soak in a hot tub, or get a massage.
The Taj Vilas offers free parking and a restaurant serving breakfast, lunch, and dinner. The hotel's bar serves drinks 24 hours a day. The hotel has an outdoor pool, a spa, a business center, and is just minutes away from the Taj Mahal Mausoleum. The hotel is located within 2.3 km from the Agra Fort and the Taj Mahal. A walk to this hotel will take around 15 minutes.
4. Hotel The Retreat Agra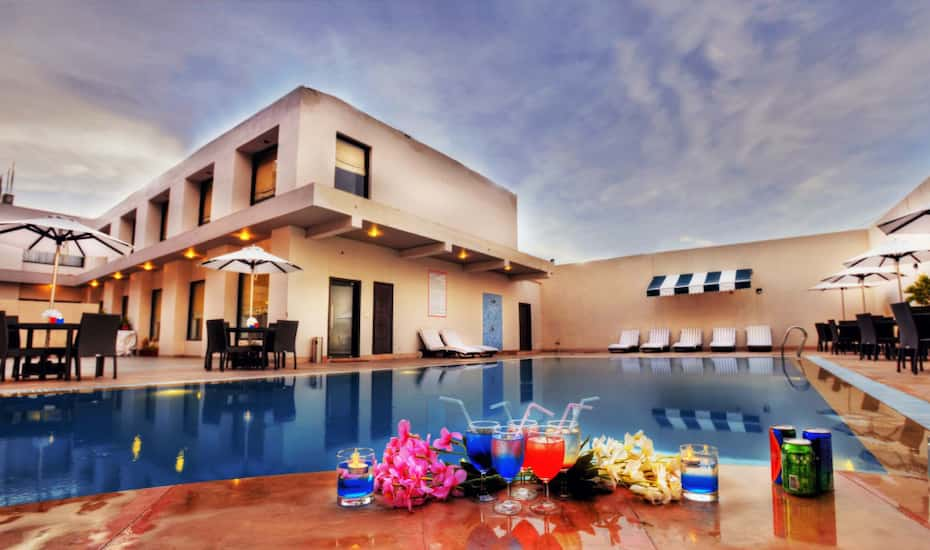 Located in the Tajganj area of Agra, this property is close to the main attractions, interesting restaurants, and the world-famous Taj Mahal. Rated three stars, this property also offers complimentary Wi-Fi. Guests can use the hotel's free shuttle services to and from the airport, or arrange a car rental for convenience. In addition, the hotel also has two banquet rooms.
The rooms are nicely decorated, and the beds are comfortable. The hotel also offers a decent restaurant with reasonable prices. It is a convenient location to the Taj Mahal, which is less than two hours away by foot. The hotel also offers rickshaws for around 50 INR that will drop you off at most nearby locations.
Suggested Tour Itineraries
5. Hotel P L Palace Agra
Hotel P L Palace Agra offers a budget-friendly stay in the heart of Agra. The hotel offers seventy comfortable rooms, each with a view of the Taj Mahal. The hotel also offers a swimming pool, a bar, a lounge, and special facilities for VIPs. The hotel offers free wireless Internet access. You can also choose to stay in a non-smoking room if you wish.
This charming heritage hotel is a short walk from the busy business centre Sanjay Place in AGRA. The hotel offers an indoor pool, a baby pool, and a rooftop cafe. The restaurant serves Indian, Chinese, and continental cuisine. Guests can relax and unwind in the hotel's rooftop terrace restaurant with stunning city views. The hotel also features a coffee shop and banquet rooms. Most rooms come with free WiFi, so you can stay connected even when you aren't using your phone.
6. Hotel Atulya Taj
If you're on a budget, you might want to look into a few of the affordable Agra hotels. Many offer discounts on their rates and features like a 24-hour front desk and swimming pool. Some are also family-friendly, offering free breakfast. Read on to discover some of the best options. Let us help you choose a hotel that will fit your budget and your needs.
If you're looking for a centrally located Agra hotel, check out Hotel Atulya Taj. It's just 500 metres from the Taj Mahal, and features 4 star amenities. It also has an on-site restaurant and swimming pool. Nearby attractions include the Taj Mahal, which is a popular tourist attraction, and several Agra hotels and hostels.
If you're travelling on a budget, look at a few 3-star hotels in Agra. The best budget-friendly options are the Pearl of Taj Homestay, Hotel Parador, and Hotel City Square and Suites. The prices for the top Agra hotels are available online. Be sure to check out reviews before booking. Prices may vary according to your travel dates.
7. Hotel Seven Hills Tower Agra
Located just 500m from the Taj Mahal, Hotel Seven Hills Tower offers spacious rooms and a rooftop swimming pool with a baby pool and a structure for children. The hotel has a coffee shop and a restaurant with an expansive view of the Taj Mahal. Guests can also arrange a business meeting in one of the banquet rooms or host an event in their conference center. This budget hotel is located near the Taj Mahal and is only few miles from the Agra Fort. It is also within easy reach of Mehtab Bagh and the Agra Fort. The hotel is also a great choice for business travelers as it has a business center, free Wi-Fi, and an outdoor pool. The property is also close to the Agra Cantonment Railway Station.