Bombay or Mumbai as it is better known today is the corporate capital of India. Mumbai is a microcosm in itself with people from every corner of India coming to make their dreams come true. There are opportunities in plenty in every field wide open to everyone. The Bollywood which churns out Hindi movies by dozens attracts thousands of budding and aspiring actors and actresses, Some of them make large while others just disappear in the oblivion. The original inhabitants of Mumbai were fisher men who are now a minority in their own domain. Mumbai has a distinctive culture and a characteristic flavor of its own. These scores of immigrants who came to the city to make big not only rendered their useful services to the various sectors but developed a very new culture of its own.
The Mumbai local train is the life line of this city. The city plans its schedule according to the local trains timetable, say for instance the distance between Borivali a station on the outskirts of Mumbai and Mumbai Central is more than 30 kms and it takes more than an hour to reach by local train. The office goers have a fixed plan for everyday and you will find same individuals traveling say for instance on the 7:05 AM fast local. Just imagine these people travel more than 3 hours everyday during their journey to their office and back.
If you get a chance to travel in Mumbai local you sure will notice these people sporting white shirts and typical Gandhi caps and carrying scores of tiffin boxes in special containers on their head or in special luggage trolleys. You will never see this spectacle at any other place. These people are called "Dabba Wala" in local parlance. There are around five thousand Dabba wala or the tiffin box carriers employed in this unique trade.
In 1890 the Mumbai was growing as a metropolitan city with lots of new offices .Workers from all parts of India were working hard in these offices .This was the time when a service was started by Mahadeo Havaji Bachche to deliver piping hot home cooked collected from homes and delivered to respective offices.
These Dabba wala have a strict dress code and they wear white shirt with a white Gandhi cap on the head. Most of these workers belong to the Maharashtrian "Varkari" community. They earn nothing more than six Dollars a day. Their job entails collection of cooked food from respective homes and to deliver the same to the workers office and returning empty tiffins back to respective households. These people earn a fixed monthly salary of 8000 INR which is roughly some 120 USD .
A fact worth mentioning is that these dabba wala render a flawless service with almost no mistakes, The occurrence of mistakes is almost 1 in 6 million which is abysmally low. The question arises how these people maintain such an immaculate record. Mumbai is a vast metropolis with more than 200000 customers , How do these dabba walas maintain such a fine record of impeccable service? The answer is meticulous planning and execution of the same, Normally these people use cycles coupled with Mumbai local trains for fast deliveries which never fail. The lunch boxes carry a colour coding system , respective colours are used to differentiate the areas, rarely there is any mistake .This 130 year old industry is still growing and provides jobs to not so educated readily, The entry level qualification is just a pass in std 8.The Dabba walas of Mumbai have been certified as Six sigma complaint by the Forbes.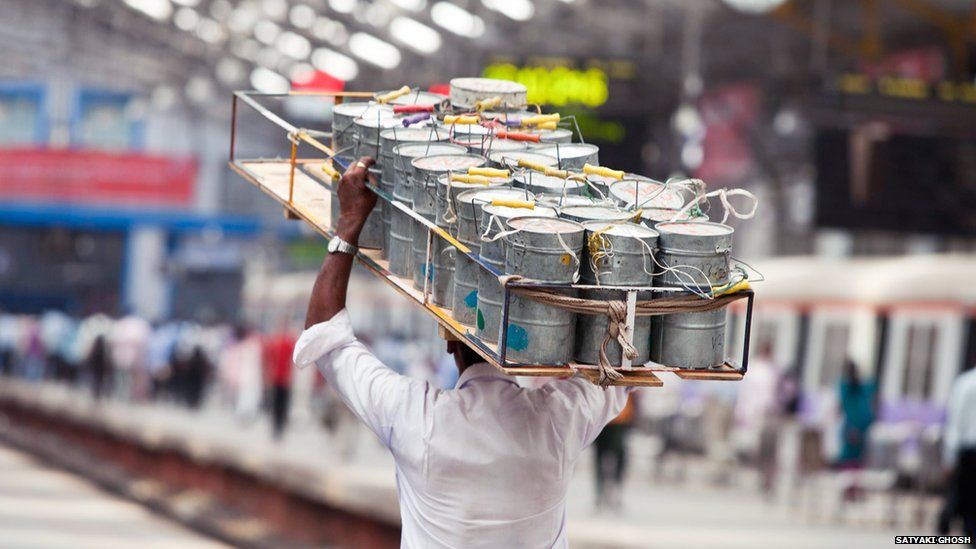 Prince Charles on his maiden Mumbai visit in year 2003 spent time to understand the dynamics of the dabba wala trade and he was full of praise for these Samaritans delivering this service 52 weeks in a year continuously for last 130 odd years. The dabba wala organization distributed sweets to their customers as they rejoiced the wedding of Prince Harry with Meghan Markle.
Earlier the dabba wala used minimal technology now the modern technology of faster communication like whatsapp and SMS have made their job easier. These people are now also using the services of Ola and Uber to raise their service standards and shorten the delivery time.
Normally a tiffin changes six pair of hands on its journey to the respective user. Just imagine how a worker who has left his home early morning to catch the local train is served piping hot lunch prepared by his wife. The empty tiffins are also transported back to respective homes.
On your next Mumbai tour you can appreciate the hard work of these dabba wala as you can spend some time with them to understand the nitty gritty of their trade.